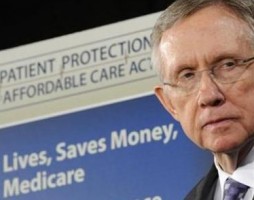 Through a letter addressed to Henry Reid, Nancy Pelosi, John Boehner and Mitch McConnell, C-SPAN CEO Brian Lamb is requesting that all "important negotiations" in reconciling the differences between the House and be opened up to C-SPAN's cameras. This request is sure to be a hot political topic, as it directly confronts President Obama's campaign promise for transparency, specifically his pledge to open up the health care talks for C-SPAN's cameras.
The typical format for these sorts are negotiations are closed-door meetings, which both congressional Democrats and Republicans have used in the past to solve politically sticky problems with many legislative impasses. No word has yet been heard from either Reid, Pelosi or the White House, but it's hard to imagine that this request will actually be agreed to — there is simply too much at stake in the eyes of the Democratic body.
So the likely result of this request is a net win for detractors of not just health care reform, but the process at large, with its reliance on back-room negotiations. An interesting power play from C-SPAN, a non-partisan group who will suddenly be receiving a lot of well-deserved attention.
Full text of Lamb's letter below:
December 30, 2009

The Honorable Nancy Pelosi The Honorable Harry Reid Speaker Majority Leader United States House or Representatives United States Senate

The Honorable John Boehner The Honorable Mitch McConnell Minority Leader Minority Leader United States House of Representatives United States Senate

Dear Speaker Pelosi: Representative Boehner:

Senator Reid: Senator McConnell:

As your respective chambers work to reconcile the differences between the House and Senate health care bills, C-SPAN requests that you open all important negotiations, including any conference committee meetings, to electronic media coverage.

The C-SPAN networks will commit the necessary resources to covering all of these sessions LIVE and in their entirety. We will also, as we willingly do each day, provide C-SPAN's multi-camera coverage to any interested member of the Capitol Hill broadcast pool.

Since the initial introduction of the America's Affordable Health Care Act of 2009 in the House and the Patient Protection and Affordable Care Act in the Senate C-SPAN has televised literally hundreds of hours of committee hearings, mark ups and floor debate on these bills for the public to see. And importantly, we have archived all of this video for future generations to study in the C-SPAN Video Archives.

President Obama, Senate and House leaders, many of your rank-and-file members, and the nation's editorial pages have all talked about the value of transparent discussions on reforming the nation's health care system. Now that the process moves to the critical stage of reconciliation between the Chambers, we respectfully request that you allow the public full access, through television, to legislation that will affect the lives of every single American.

We hope you will give serious consideration to this request. We are most willing to employ the latest digital technology to make the cameras, lights and microphones as unobtrusive as possible.

Please contact me if I can answer any questions.

Sincerely,

Brian Lamb
Update – White House Press Secretary Robert Gibbs was asked about this today and had the following response:
Have a tip we should know? tips@mediaite.com