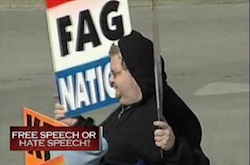 New developments in the case of the Westboro Baptist Church vs. the family of Marine Matthew Snyder. You will recall this story from earlier this year: Marine Lance Cpl. Matthew A. Snyder, 20, was killed in a non-combat related vehicle accident in Iraq in 2006. During his funeral members from a Baptist church in Kansas staged a loud protest against the war in Iraq because they believe, among other things, that America's military is evil because it defends a country that tolerates homosexuality. (What is the matter with Kansas?).
After an initial court ruling overturned Snyder's father's lawsuit against the church, and required him to pay the church's legal fees (Bill O'Reilly famously offered to pick up the tab), the Supreme Court agreed to hear the case.
In the interim, Forty-eight states and the District of Columbia have signed on to back the court case which will be heard sometime this fall, not to mention a whole slew of politicians. More from WaPo:
Senate Majority Leader Harry M. Reid (D-Nev.) for once found common ground with Minority Leader Mitch McConnell (R-Ky.) on the issue. Reid held a news conference with Snyder Friday to say 42 members of the Senate had signed on to an amicus brief to condemn the actions of Westboro Baptist Church in Topeka, Kan., and its founding pastor, Fred W. Phelps Sr.

"Respondents were and are free to convey their repugnant message in virtually any public manner they choose," the senators said in a brief written by former Clinton administration counsel Walter E. Dellinger III. "But they were not free to hijack petitioners' private funeral as a vehicle for expression of their own hate."

Likewise, there has been a rush of state attorneys general to sign on to an efforts led by Kansas Attorney General Steve Six to argue that there is no protection for what they say was targeted and harassing speech aimed at Snyder. More than 40 states have laws restricting funeral protests, which are not at issue in the case.
Watch ABC's coverage below.
Have a tip we should know? tips@mediaite.com