Senators Behind Graham-Cassidy Put Out Statement: Process, Timing of Vote 'Did Not Line Up'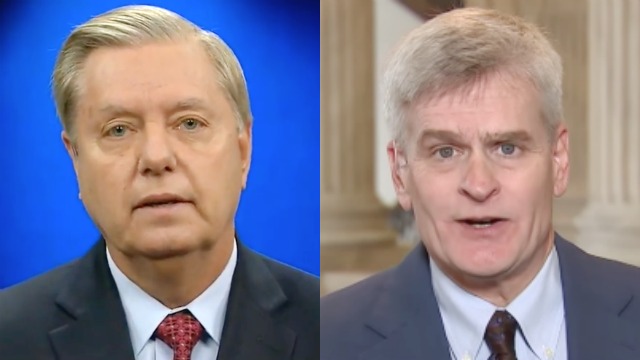 The senators behind the Graham-Cassidy health care bill have put out a statement this afternoon after news broke that the bill will not be voted on.
Senators Lindsey Graham, Bill Cassidy, Dean Heller, and Ron Johnson put out a joint statement saying, "It's not a question of 'if' Graham-Cassidy-Heller-Johnson replaces Obamacare –– it's only a question of 'when.'"
They lament how the "process and timing of this vote did not line up this time," noting the criticisms from John McCain and Lisa Murkowski.
But they're not giving up on repealing and replacing Obamacare, saying that "the worst is yet to come" and they expect their bill to "eventually pass."
You can read the full statement below:
"As a result of our efforts in the last few weeks, it's not a question of 'if' Graham-Cassidy-Heller-Johnson replaces Obamacare – it's only a question of 'when.' Our approach ends the march towards single-payer health care where all medical decisions are made by a Washington bureaucrat.

"Obamacare's problems are widespread and well known. Forty five percent of counties or parishes in the U.S. are down to single provider. Premiums are skyrocketing. And families across the country are suffering under the weight of this failed law. Unfortunately, these problems will only get worse over time.

"Due to circumstances under our control and not under our control, the process and timing of this vote did not line up this time. However, our idea of sending the power and money to the states clearly resounded with our colleagues. A one-size fits all approach to health care does not work. The needs of South Carolina are different than those in Louisiana, Nevada, and Wisconsin. Our system should be flexible to reflect this reality. We can all say with confidence that our plan not only replaces Obamacare – it will end the march led by our Democratic friends towards single-payer health care.

"While the arcane rules of the reconciliation process limited our policy options and imposed an artificial deadline on our efforts, we will push on.

"The most frequent frustration we heard from our colleagues ranging from Senator McCain to Senator Murkowski was that time and process were the biggest obstacles to their support. There is no doubt about their commitment to repeal and replace Obamacare and no doubt about their support of local control.

"We have never felt better about the idea that we can now – as a party – not only repeal, but replace Obamacare with an idea that will pay off for the American health care consumer. Under our approach, the money and power in Washington is given to state officials who will be accountable at the ballot box and therefore more accessible than any Washington bureaucrat.

"It is just a matter of time until we fulfill our promise to repeal and replace Obamacare with something far better. For the American people, when it comes to Obamacare, the worst is yet to come. That is why we believe Graham-Cassidy-Heller-Johnson is needed and will eventually pass.

"Finally, we truly appreciate the leadership and assistance shown by Leader McConnell and his leadership team, the President and Vice President. They have all been fully engaged in this effort and we could not have come this far without their hard work. We look forward to our continued collaboration in the days and weeks ahead."
[image via screengrab]
— —
Follow Josh Feldman on Twitter: @feldmaniac
Have a tip we should know? [email protected]
Josh Feldman - Senior Editor