Showtime Host Mocks 'Scrubbed Potato' Tucker Carlson: 'Worm in a Bow Tie and a 3rd Grade Haircut'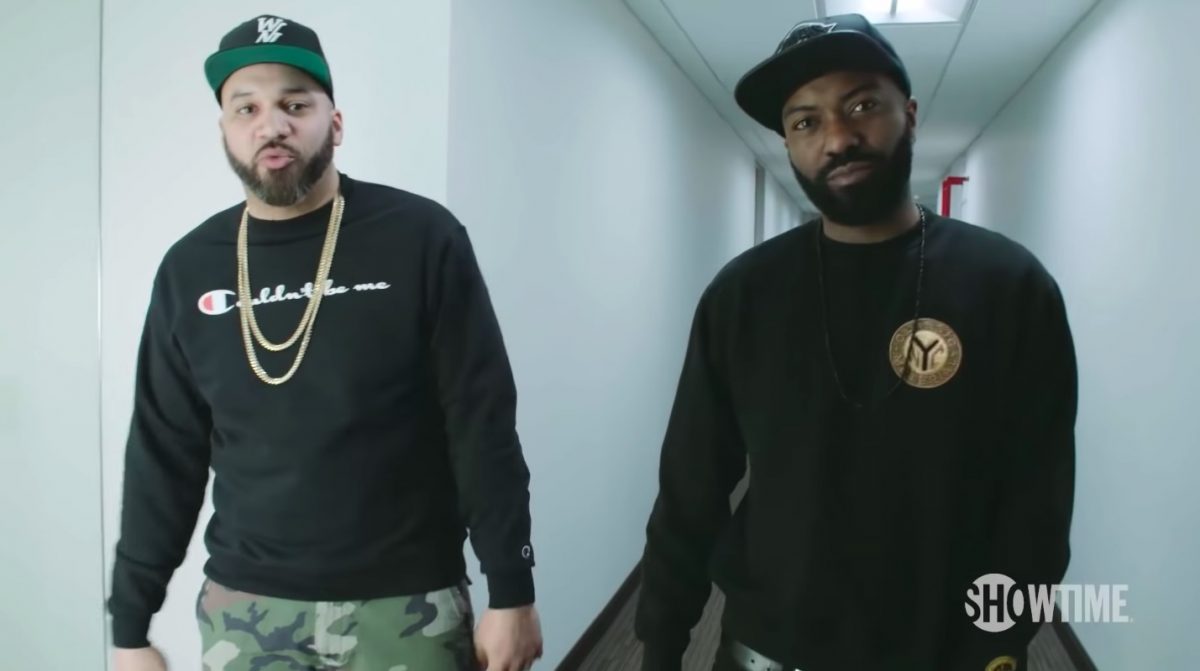 After Fox News host Tucker Carlson mocked MSNBC's Chris Hayes on-air, Kid Mero, from the popular Showtime series Desus & Mero, said he would "duff" Carlson "so hard his bowtie would spin around like daffy ducks beak."
Kid Mero, whose co-host Desus Nice attended a Bronx middle school with Hayes, began his tweetstorm against Carlson by stating he'd bet "10 racks" on the MSNBC host beating his Fox News rival in a "no gloves" fight.
YO @TuckerCarlson YOU ARE WILD WILD WILD PUSSY AND I GOT 10 RACKS ON @chrislhayes WASHING YOU HANDILY IN THE PARKING LOT AT BAY PLAZA NO GLOVES NO RULES UR A FUCKIN HERB DOG NOBODY AT FAUXNEWS WANTS PROBLEMS FALL BACK BEFORE U GET UR BOWTIE SPUN 540° WITH A OPENHAND FACE SMACK

— THE KID MERO ?? (@THEKIDMERO) April 2, 2019
LMAOOOO U DEAD ASS? I WOULD DUFF THIS CLOWNCAKE SO HARD HIS BOWTIE WOULD SPIN AROUND LIKE DAFFY DUCKS BEAK???? https://t.co/fHy4bqsw3Y

— THE KID MERO ?? (@THEKIDMERO) April 2, 2019
In follow up tweets, Kid Mero referred Carlson as "a fuckin worm in a bowtie" with "a 3rd grade haircut" and joked about the conservative pundit calling the police for protection. He also joked that Carlson looks "like a scrubbed potato with a wig" who "my 5 year old would mop."
Kid Mero offered his thoughts on Carlson's neck-to-head ratio in his final tweet on the subject.
THIS DUDE INVENTED THE CHINNECK WHERE UR LACK OF A CHIN CREATES THE ILLUSION OF A SMOOTH TRANSITION FROM HEAD TO NECK. NOTICE THE TIGHT ASS VAN HEUSEN SHIRT STRUGGLING TO HOLD BACK THOSE JOWLS AND CREATE THE ILLUSION OF A NECK https://t.co/OZwJ3b59Z1

— THE KID MERO ?? (@THEKIDMERO) April 2, 2019
On his Monday night show, Carlson opened fire on Hayes, mocking his interview with Rep. Alexandria Ocasio-Cortez.
"Chris Hayes is what every man would be if feminists ever achieved absolute power in this country: apologetic, bespectacled, and deeply, deeply concerned about global warming and the patriarchal systems that cause it," Carlson said.
Hayes cheekily replied to the attacks by posting a workout picture of him on Instagram with the caption: "Every quarter the Feminarchist Junta requires all adult males to present themselves for a fitness inspection. Failure to pass results in summary execution."
Have a tip we should know? tips@mediaite.com