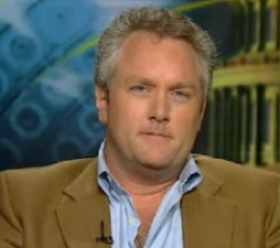 A little more than three weeks ago, Andrew Breitbart promised Red Eye's Greg Gutfeld that he would "[take] down the institutional left" in "the next three weeks." While Breitbart later admitted he was joking, the deadline has arrived, and it's brought with it a media blitz worthy of his spectacular series of hotel-lobby Flip Cam interview at this year's CPAC. Yesterday, Slate released the second in what appears to be a series of profiles in various publications on the internet mogul, and for a figure as polarizing as Breitbart, writer Chris Beam paints a remarkably favorable picture. It's not a glowing biographical sketch– there is no attempt to hide anything Beam finds noteworthy about Breitbart, whether that means his refreshingly comfortable relationship with four-letter words or his fear of expressing emotions other than outrage and amusement–but it's the most candid, three-dimensional look the public has ever gotten of him.
Beam gets the worst of it out early as he tries to find appropriate analogies with which to fully express the nature of his subject. It's a difficult task, and collectively his descriptions portray a caricature too outrageous to be true: "a younger John Lithgow who sounds like Rush Limbaugh if he surfed," "that guy who yells even more than Chris Matthews," "doofus who rubs his nipples and snorts red wine powder," "offensive in every sense of the word," etc. It's an image that is hard to take seriously, but Beam didn't make any of it up (well, maybe he took some artistic license with the surfing Rush Limbaugh bit). It's precisely the product Breitbart is selling, and if you either agree with his politics or have the ability to overlook them, it's hard not to see the appeal.
Not to mention that Breitbart is neither the first nor last public figure to use absurdist humor to make his point. There is nothing in the piece that one could dismiss Breitbart for without first dismissing liberal comedic demigod Jon Stewart. Beam describes Breitbart's political attack strategy as "when anyone dismisses Breitbart as a loon, he comes back at them with moral fury. When they threaten to pin him down in an argument, he wriggles free with a joke." Before Breitbart, it was only Stewart who could pull off being both the court jester and the king's senior policy adviser (the best example of this is his 2004 appearance on Crossfire, where he shifted from sharply criticizing the media to an "I'm just a comedian" shrug within seconds). The same dynamic is in play here, except Breitbart doesn't have a fake news show to break through some of the nuances of his political identity.
None of this is new information, and it's not the fleshiest bit of the extensive piece. Beam takes the time to break through to the private side of Breitbart, besides giving the standard tour of his CV. We get to hear him talk about his sister (who, like him, was adopted) and how, outside of politics, he feels making ethnicity an issue is a personal challenge to his closeness to her. Beam was let in on "Downer Andrew" after Michael Walsh, the editor of Big Journalism, suffered a heart attack. Turns out Breitbart doesn't cope well with death and regularly suppresses emotion. He confesses: "My ability to be emotive and cry … I think I'm so fearful of tapping that that I won't know how to turn it off." And through the partially self-created firestorm Breitbart admits that he longs for "a Thoreau sort of place," devoid of political warfare. It's a far cry from the right-wing Rambo of Twitter that appears at the beginning of the piece.
Breitbart is currently entering a phase in his career similar to where Glenn Beck was last summer when Time put him on the cover: a whirlwind of good and bad press and relentless attempts from both the left and right to define him in the terms most convenient to their cause. In the pantheon of Beckian profiles, Beam's piece most corresponds to Alexander Zaitchik's "The Making of Glenn Beck," a three-part series at Salon that, while not approved of by Beck and significantly more biased against him than Beam's piece, attempts the same kind of introspective look at the man behind the camera. In that profile, Beck is depicted as a drug-addled, amoral 1980s pseudo-celebrity— think Bud Fox with a radio show and no union-leader dad to keep him away from Gordon Gekko. Breitbart has the fortune of a much less sinister past; his newly-disclosed secrets include an instance in high school where he made up a quote in the school newspaper and almost being involved in the production of Valley Girl 2. And by being involved in the process, Breitbart got a lot more leverage in terms of how his image would ultimately appear. And it paid off, though given what Beck went through when he became the subject of countless portraits, it's probably not time to rest easy just yet. Not that Breitbart ever does.


Have a tip we should know? tips@mediaite.com