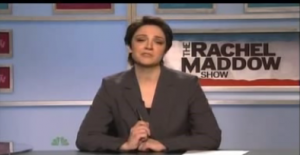 SNL's Rachel Maddow welcomed the shapeshifting new House of Representatives by moderating a three-way conversation with presumptive Speaker John Boehner, outgoing Speaker Nancy Pelosi, and loud speaker Charlie Rangel. A decidedly boyish Abby Elliott played the MSNBC host and discussed a range of topics with the guests, from Republican tax policies, Rangel's ethics violations, and who stole Pelosi's necklace. Guess which Representative it was!
Boehner was first up. He spoke on his party's mandate, claiming that it existed, though he had no idea what exactly was in it. "True story," he tells Maddow. "On election night, I was asleep when suddenly I heard voices." It was the American people, literally keeping keeping Boehner up at night. They were asking asking in unison, like a "great big barbershop quartet," for Congress to cut taxes. When he asked the citizens on his lawn which specific programs the Republican-led House should cut, they eerily disappeared into the night, leaving no trace of an answer.
Maddow then turned her attention to Pelosi, she who "always looks like she's watching someone not use a coaster." Aptly stone-faced, the current Speaker reacted coldly to the new GOP House. She characterized the opposition party as "a pack of feral dogs guarding a turned over trash can" and reminded voters that "it will take more than election" for her to go away. "If you want to get rid of Nacny Pelosi, you better be ready to cut off my head and bury it separately from my body."
The beleaguered Rangel was the last one to talk. He assured Maddow not to take his recent troubles too seriously, because he certainly wasn't going to. "I am not a criminal," he declared, echoing a line popular with many criminals past. "I am just a person who can and should not be trusted." To demonstrate, he sneakily robbed Pelosi of her jewelry.
Watch SNL skewer "young man" Rachel Maddow and the transitioning Congress in the NBC clip below.
Have a tip we should know? tips@mediaite.com