Snowden Declares Mission Accomplished in Wide-Ranging Washington Post Interview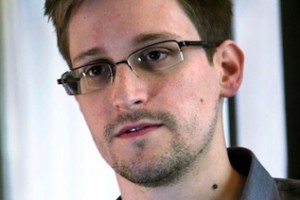 NSA whistleblower Edward Snowden has, for the first time in six months, granted an in-person interview to talk about the National Security Agency, this time to Barton Gellman, the Washington Post journalist who's been reporting on the documents Snowden obtained for months. And with a recent ruling by a federal judge that the NSA phone program is unconstitutional and President Obama's own privacy board recommending reforms, Snowden feels very confident now in saying, "For me, in terms of personal satisfaction, the mission's already accomplished."
He said the barometer for his success has always been to make the public more aware of what is being done in their name. And while he admitted he was "going in blind," the agency once nicknamed "No Such Agency" has catapulted into the public spotlight in a major way in 2013.
Snowden, however, has never considered the NSA or those in charge of it to necessarily be his enemy.
"The oath of allegiance is not an oath of secrecy," he said. "That is an oath to the Constitution. That is the oath that I kept that Keith Alexander and James Clapper did not."

People who accuse him of disloyalty, he said, mistake his purpose.

"I am not trying to bring down the NSA, I am working to improve the NSA," he said. "I am still working for the NSA right now. They are the only ones who don't realize it."
Snowden denounced members of Congress who made his disclosures necessary in the first place with their "softball questions" and their complicity in keeping the NSA's programs super-secretive. He asserted that he made his concerns known to others inside the NSA (though an NSA spokesperson denied this in a statement to the Post).
Rather than dragnets that sweep up millions of pieces of data, Snowden believes more individualized targeting is called for.
"I don't care whether you're the pope or Osama bin Laden," he said. "As long as there's an individualized, articulable, probable cause for targeting these people as legitimate foreign intelligence, that's fine. I don't think it's imposing a ridiculous burden by asking for probable cause. Because, you have to understand, when you have access to the tools the NSA does, probable cause falls out of trees."
He concluded, "If I defected at all, I defected from the government to the public."
You can read the full interview here.
[photo via screengrab]
— —
Follow Josh Feldman on Twitter: @feldmaniac
Have a tip we should know? tips@mediaite.com
Josh Feldman - Senior Editor