Some Orthodox Jews, Christians Claim Jimmy Carter's Cancer Is Divine Punishment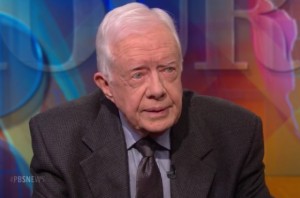 Apparently, there are enough Orthodox Jews and Christians sympathetic to Israel claiming that former president Jimmy Carter's cancer is a divine punishment from God to warrant an influential Rabbi to argue otherwise.
According to the Jewish Telegraphic Agency, Rabbi Benjamin Blech wrote a post concerning the matter for the website Aish, which serves as the digital arm of the Orthodox Jewish outreach organization Aish HaTorah.
"There are those already proclaiming with prophetic certainty that Jimmy Carter is being punished by God for his sins against Israel and the Jewish people," writes Blech. "And with that smug analysis of heavenly justice these false prophets have unwittingly besmirched millions of righteous and God-fearing people who similarly find themselves suffering from incurable diseases and facing painful deaths."
He goes on to point out that others, especially faithful Orthodox Jews and outspoken supporters of Israel, are suffering from incurable cancers, too.
"The Torah taught us not to dare make judgments based on equating someone's suffering with sin and be guilty of the crime of the friends of Job."
Blech offers a few examples of what Orthodox Jews have been saying about Carter's cancer. However, reporter Uriel Heilman also includes a link to a rather shoddily-produced Christian YouTube series that argues much of the same. That is, that Carter is dying from cancer because he was a really, really bad person when it comes to all things Israel.
[h/t Jewish Telegraphic Agency, the Jerusalem Post]
[Image via screengrab]
— —
>> Follow Andrew Husband (@AndrewHusband) on Twitter
Have a tip we should know? [email protected]