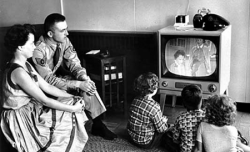 "You're going to have a television if I have to nail it to your wall."
— Anne Sweeney, president of the Disney-ABC Television Group, discloses her plan for ensuring the future security of network and cable TV providers everywhere: nail a television set to the wall of every dorm room in America!
Actually, Anne Sweeney was responding to her college-bound daughter informing her that she didn't need a TV in her dorm room because she could get everything she wanted online. Which is mostly true, and a reality that some networks and cablers are better at embracing than others — NBC posts practically everything and makes it embeddable to boot! ABC does not. It is a conversation, according to Brian Stelter in a great piece in the NYT today, that is once again at the forefront partially because one of the outcomes of this week's big Comcast-NBCU deal is that Comcast now owns Hulu.
Before we get too futuristic, it should be noted that the same concerns apply to online TV as do to online newspaper content: how to make money. Despite it seemingly being easier to put commercial breaks in online video than it is place successful ad on a homepage, those ads still aren't generating the necessary cash. And the popularity of watching vids online suggests someone is going to have to figure out something soon. For example, last year during the Sarah Palin- Tina Fey heyday the viewer numbers of SNL clips the day-after may have exceeded the audience numbers who watched it during live broadcast. I suspect the day is not far off when television shows go live online at a certain time, are branded or water-marked with the networks logo, include the regular commercial breaks, and the decision of when to watch is left to the audience. Though it will probably be sometime before a nation of living rooms catch up to dorm room TV watching habits.
Have a tip we should know? tips@mediaite.com