Speaker Boehner Tells Republicans To 'Get Your Ass In Line' Behind His Debt Ceiling Bill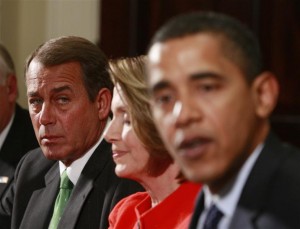 House Speaker John Boehner called in to The Laura Ingraham Show today to discuss — surprise — the ongoing debt discussions. Oh, and his "tough talk" towards his fellow Republicans.
Is it true, host Laura Ingraham wanted to know, that he told certain Republicans that they had better "get their asses in line" behind his debt ceiling bill?
"I sure did!" Boehner confirmed.
Listen, this is time to do what is doable. And this bill isn't perfect; I told the members that the last couple of days. But that's what happens when you have a Democrat-controlled Senate and a Democrat in the White House. This bill on Sunday was agreed to by the bipartisan Senate leadership that's working with me and we believe that we can get this on the President's desk and make it law.

Listen, we're not going to give him a 2.5 trillion dollar blank check that lets him continue his spending binge through the next election. It's just not going to happen. Secondly, nobody wants to default. Nobody knows what happens when we get to August 2nd. And frankly, I don't think that it's in American's best interest. There are too many jobs and too much of American savings that could be jeopardized if we get passed it.

And so, we had a meeting with our members this morning and I think we're making real progress and I'm optimistic.
Boehner says members are currently "retooling" the bill and that it will be presented on the House floor tomorrow.
Take a listen to the full interview, courtesy of The Laura Ingraham Show:
Have a tip we should know? tips@mediaite.com