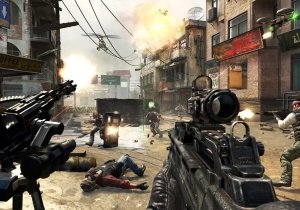 While the New York legislature was busy passing gun control, other state governments are taking action against the real problem: violent video games. Yes, people who've never played a video game in their lives or understand gaming culture are doing what's best for their children by banning them from doing something fun. A lawmaker in one state is calling for a video game tax, while one mayor is starting a video game buyback program with the offer of a "get out of homework free" coupon for kids. Seriously.
RELATED: Fox News Contributor Joins The White House In Ganging Up On Violent Video Games
First up, one Missouri Republican is calling for a tax on violent video games, because apparently it's not government overreach if it's something kids like. Diane Franklin is pushing for a one percent sales tax on video games rated T, M, and AO. Yes, just to be clear, this video game tax would only apply to video games of a certain rating. One could reasonably point out that not all T games are violent (Guitar Hero is rated T, for example), but why exactly does Franklin believe this tax is necessary?
[Franklin] said the proposed 1 percent sales tax would help pay for mental health programs and law enforcement measures aimed at preventing mass shootings…

Franklin's plan is the latest in a string of measures proposed in response to recent mass shootings. Another Missouri Republican has filed a measure that would allow teachers to carry guns in the classroom.
I can't help but wonder what would happen if, say, those two things were reversed, and someone was proposing a gun tax. Would any Republican be okay with that?
In fairness, however, the efforts to crack down on video games are strikingly bipartisan. The Massachusetts Department of Transportation recently took action against arcade games in a number of service areas after receiving an e-mail from concerned parents. These parents witnessed a young boy firing a plastic machine gun at a screen and they found it very troubling. They told the Massachusetts DOT that such games have no place in public areas, and the office actually complied.
But if you're looking for a Massachusetts official who's really gung-ho about keeping video games away from young kids, look no further than Melrose mayor Robert Dolan. He is setting up a video game buyback program to incentivize parents to give up their child's games. Dolan says children "are getting something of value" in exchange for giving up their games. What could possibly get kids excited about parting ways with Call of Duty?
Under the initiative, called New Year — New Direction, residents who throw away items can retrieve a coupon sheet, which will include deals at local businesses and possibly a "get out of homework free" coupon.
A "get out of homework free" coupon. Seriously. I'm not exactly sure how that's supposed to appeal to parents, but hey, if keeping children away from the threat of violent video games means having to compromise their education, how could we NOT do it?
—–
Follow Josh Feldman on Twitter: @feldmaniac
Have a tip we should know? tips@mediaite.com
Josh Feldman - Senior Editor