Stephen Colbert Clarifies His Sarah Palin Comments In Response To Big Hollywood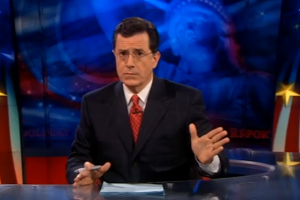 Last week, Stephen Colbert went on a truly epic rant, absolutely skewering Sarah Palin. The genuinely amount of the insults leveled at the former Governor made the segment especially harsh (or, as some would say, hilarious). This was not lost on the folks at Big Hollywood who wrote an angry post and made a poll decrying Colbert's "ugly and mean-spirited rhetoric." Either someone on the Colbert Report staff reads Big Hollywood or they have a Google Alert for their boss' name because, last night, Colbert responded and clarified his statements. Of course, if you have even a passing familiarity with how comedy works, you can probably guess that "clarify" just means "making more Sarah Palin jokes."
The Big Hollywood articles posited that there was a hypocrisy in Jon Stewart and company complaining about Rep. Steve Cohen or Fox News using Nazi comparisons while Colbert can diss Palin all he wants. Colbert started his response by thanking Big Hollywood for "monitoring this outbreak of civility." He then went on to explain that all those things he said about Palin were just things he saw in Mika Brzezinski's eyes and not his own thoughts.
"For the record, I believe Sarah Palin is a true statesman whose experience as a failed Vice Presidential candidate, half-term governor, and eight-episode reality show star has fully prepared her to take control of our nuclear arsenal."
Here's another tip for those without a passing familiarity with how comedy works, when you write earnest condemnations of how offensive their material is, you're basically writing their next material.
Check out the clip from Comedy Central below:
(h/t Breitbart.tv)
Have a tip we should know? tips@mediaite.com