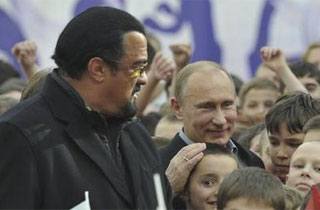 Noted Russia expert and Oxford scholar of international affairs Steven Seagal has previously shared his opinions about the Crimean annexation, but in an interview with a magazine run by the Russian government, Seagal declared his love for Vladimir Putin and his desire to consciously uncouple from America.
Seagal, who is apparently judo buddies with the Russian leader, told the Rossiskaya Gazeta that Putin is "one of the great living world leaders" and that he "would like to consider him as a brother." At some point, he thinks he might move to Russia and become a citizen, just so he can be riiiiiiight next door to Putin.
And like any good lovelorn teenager brother, Seagal thinks Putin's invasion of the Crimea is justified, and that the American media is just being bitchy haters who want to get into Barack Obama's clique. Per the Moscow Times:
In the interview on the set of a movie he is shooting in Romania, Seagal said President Vladimir Putin's "desire to protect the Russian-speaking people of Crimea, his assets, and the Russian Black Sea military base in Sevastopol … is very reasonable."

Criticizing the "idiotic" U.S. policy on Ukraine, Seagal said the American media coverage of the crisis was promoting the agenda of U.S. President Barack Obama.
The feelings may be reciprocated: the Gazeta called Seagal one of the world's top movie stars, the two have often been spotted promoting fitness in Russia, and Putin apparently didn't kill Seagal over the following (fake) photo:
Here we are witnessing the start of WWIII. pic.twitter.com/ryTo0uoobp

— Mark Holland (@RiffRaff41) March 24, 2013
[The Moscow Times via The Wire]
[Image via Newscred]
— —
>> Follow Tina Nguyen (@Tina_Nguyen) on Twitter
Have a tip we should know? tips@mediaite.com