Stewart's Meet the Press Courtship Another Leak During Tumultuous Turness Tenure
Concha: Stewart's
Meet the Press
Courtship Another Leak During Tumultuous Turness Tenure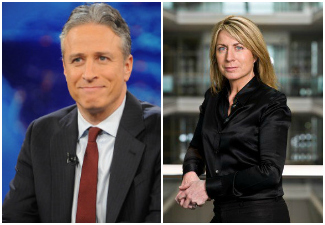 You know the world of news and infotainment have officially melded into one when the not-denied rumor of NBC News courting Jon Stewart hits the media like it did with a bang yesterday.
The big two questions are: Would this have worked if NBC News President Deborah Turness could have pulled it off? And why/how do these kind of leaks continue to occur under Ms. Turness?
First, let's look at the obvious reasons for the Peacock to reportedly pursue the Daily Show host in the first place: Stewart is arguably the greatest active television entertainer of the 21st Century. The Daily Show is a finely-tuned formula that always works thanks to pitch-perfect delivery by a likable host, a writing staff second to none and seemingly endless material to work with night-in-and-night-out (and if the material doesn't work…nothing a crafty edit taking words out of context can't fix).
But Stewart–like Howard Stern–is best when probing a guest. Just ask Kathleen Sibelius, who may have thought she was walking into a softball interview given Stewart's political leanings and ended up being a punch line every since. Ask Jim Cramer, host of CNBC's Mad Money, who Stewart bravely pointed the finger at for recommending on his show that investors keep their money in Bear Stearns before its fatal collapse. Or ask Tucker Carlson and Paul Begala, the former hosts of the original Crossfire when Stewart–who was an underestimated guest at the time–turned the tables in a devastating critique of news debate formats that ultimately led to the show's demise.
But while Stewart often does a good interview, for him to carry a full hour with panels and deep dives into policy would not play well once the novelty of seeing him in Tim Russert's old chair wore off. Throw in the fact that he wouldn't have the benefit of 18 writers or (and this is important) a pumped-up studio audience applauding every line, and you have a show that would largely come across as out of place in terms of content and atmosphere. And of course, Stewart's ideology would likely become an issue to half the potential audience as well.
Then there's the cost of signing a guy who currently makes a reported $30 million a year (for context, Stephen Colbert will make $4.66 million annually when he jumps to CBS next year). According to the New York Magazine report, Turness was willing to back up the Brinks Truck to pay Stewart whatever he demanded. Not sure if that particular truck had that kind of dough sitting in it. Again, context: Jay Leno made $15 million his final year to host The Tonight Show five nights a week. So what kind of offer did Turness really make? And if is the reason we see Chuck Todd on Sunday mornings instead of Stewart…because said offer simply wasn't worth leaving the freedom and comfort afforded by Comedy Central?
Then there's the disturbing (to NBC brass) pattern of leaks during the Turness tenure. David Gregory's exit was a clinic on how not to handle something in the media business (or any business for that matter). Note: Gregory had been with the network for two decades, handling anchoring/hosting roles from morning show to evening newscast. A few months before firing him, someone in a high place at NBC willfully leaked that a "psychological consultant" was hired to interview Gregory's friends and family (which didn't make him look bad or anything). And before NBC could announce his actual termination in August, again the network is caught flat-footed when the press breaks the not-so-surprising news first.
So who's talking and why? Today, the New York Post features a blaring headline: Are Deborah Turness' days at NBC News numbered? Three big reasons why the question is being asked:
(A): NBC's Today Show is still getting beat by ABC's Good Morning America. (B): To make matters worse, over the past year, ABC's World News Tonight is up 16 percent (in the key demo) while Brian Williams' Nightly News is down 18 percent. According to Nielsen numbers from last week, for the first time in five years, Nightly News lost in all demographics to ABC. (C): Combine that with the Meet the Press woes (Todd's debut at #1 last month has quickly eroded and the show sits in third comfortably again in the Sunday morning ratings race), and you can see why Turness is likely looking at her LinkedIn page a bit more these days.
Jon Stewart to Meet the Press isn't happening, but it sure would have been interesting to see it, even for one week. Deborah Turness out at NBC News? One thing is almost certain: Ms. Turness will be the last to know about it if and when it happens.
— —
>>Follow Joe Concha on Twitter @JoeConchaTV
Have a tip we should know? tips@mediaite.com