Stimulus Money Being Spent On Signs Telling Us How Stimulus Money Is Being Spent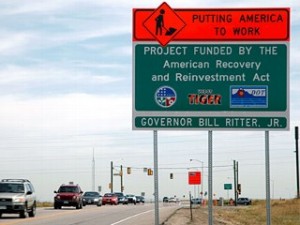 There's a huge new sign standing sentinel on the road leading to Dulles Airport near Washington, D.C. that tardy travelers speeding to catch a flight probably don't notice. ABC News, however, took note of the sign, which praises The American Reinvestment and Recovery Act for funding runway improvements and creating new jobs, because it was paid for with $10,000 of the money that it touts went to improving the airport.
The example in D.C. is not the only one of its kind. Several states are reportedly using stimulus-funded signs to promote stimulus-funded projects that are "putting America to work" – Illinois has put up 950 of them for $650,000, and Pennsylvania has bought 70 at an average cost of $2,000 per sign. And although Jill Zuckerman of the Department of Transportation says the signs count for under .02 percent of total project spending, a handful Republicans are less than pleased with how the money is being spent.
Congressman Aaron Schock of Illinois is one of them, claiming that around $20 million in taxpayer's money has been spent "on a bunch of signs to tell them how we are spending their taxpayer money." He took time from chiseling his infamous abs yesterday to present a bill to the House that, if passed, would prevent stimulus funds "from the American Recovery and Reinvestment Act of 2009 from being used for physical signage indicating that a project is funded by such Act, and for other purposes." According to Schock, the signs are "nothing more than propaganda" and an "oxymoron."
Darrell Issa, Chairman of the House Committee on Oversight and Government Reform, wants to take it a step further with an investigation to "determine the scope and impact of the Obama administration's guidance" in relation to the signage.
In all of the fuss about the signs, no one seems to have asked the most important question of all: what, exactly, are road signs made out of that makes them so expensive? Does their shimmery green hue come from crushed Peruvian emeralds? Are they crafted from titanium to withstand a blow from a runaway 18-wheeler? Surely there is some way to cut the cost of these signs. May we recommend switching to poster board and construction paper, with generously applied glitter glue for reflective purposes.
Have a tip we should know? tips@mediaite.com