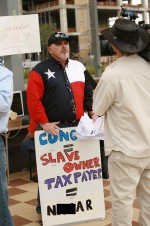 In the most comprehensive coverage since "Balloon Boy," we have yet another update in the saga of self-described Tea Party founder Dale Robertson and his misspelled n-word sign. We first noted that Robertson was quoted by the conservative Washington Times saying that he had never seen racial slurs at a Tea Party event, even though he had been photographed holding one. Robertson then contacted me to allege that the photo must have been faked, although our expert disagreed. Since posting that article, however, sources as diverse as Alan Colmes, Joy Reid, and Newsbusters have contacted me with admissions by Robertson that the photo is real. After the jump, an arsenal of smoking guns.
Ordinarily, this would simply be an update to the previous post, but the sheer volume of damning evidence against Robertson's claim of forgery is so comical, it deserves its own spotlight. The whole thing reminds me of that scene in Who Framed Roger Rabbit? in which Roger asks Eddie if he's sure about Jessica's pattycake escapades, only to be shown a flip-book's worth of photos.
Newsbusters' Rusty Weiss was first to contact me yesterday. Today, he has published an email exchange with Robertson from early January:
"Is the picture doctored to make the sign say that, or is it accurate?"

Robertson had this response:

"It is easy to take the mob mentality and make accusations. This comment was taken from Webster Dictionary, from Ron Dellums a Liberal/Socialist Democrat. It means politically unrepresented. However, we are so interested in hating that we can't see this is not referring to a person, but Americans in general. In particularly, myself."
Columnist Joy Reid also contacted me to highlight the fact that she had a nearly identical conversation with Robertson in January. So far, that's one Photoshop expert, one email confession, and one print admission. The coup de grace is this video from Alan Colmes, who also contacted Mediaite about our stories:
The takeaway here, besides the fact that Dale is worse at covering his tracks than a Sasquatch jogging in Play-Doh, is that perhaps Robertson's denial belies a healthy dose of remorse. Unfortunately, wishing you'd never done something doesn't make it so.
Have a tip we should know? tips@mediaite.com