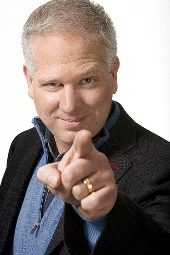 We write about Glenn Beck a lot here at Mediaite, which differentiates us from the rest of the media world only in so far as we have been doing it longer. Since we appear to be in the site-launching mood around here of late, someone came up with the inspired idea to start one based entirely around all things Beck (ok, it was Glynnis). As every aspiring businessperson knows, you gots to give the people what they want!
So! To that end, we are proud to present BeckCrunch.com – just think of it as one, long, glorious moment of Glenn (alternately, the 4/1 Movement).
Founder of Mediaite, Styleite, Geekosystem (and now BeckCrunch), Dan Abrams, released this statement:
After spending years as a host and general manager for MSNBC, I've learned to identify when a major media talent comes along. But setting that eye for talent aside, Glynnis and Steve are obsessed with Glenn Beck, and they've promised me a power grid, so what the hell, we'll start BeckCrunch. At least I landed Beck advertiser Survival Seeds as an Abrams Research client
Here's what you can expect find!
• "Make Your Own Beck Chalkboard"
• A Beck Power Grid, ranking everyone Beck has every mentioned on air in categories like Mao-like tendencies, Love for America, and Progressivism.
• Reviews of each TV show and radio show, of course.
• Your Moment Of Glenn will be expanded, to include one moment every hour.
• Interviews with every guest who has appeared on Beck's Fox News show – six and counting!
Go check out BeckCrunch: crunching all your Beckisms since August 2009!
> Update: Ok this is real. Christopher Balfe, President and COO of Mercury Radio Arts (and 40 Under 40 star) tells Mediaite: "Since coverage of Glenn across all media outlets has really been lacking, we look forward to this new site so we can finally get the word out about Glenn."
Have a tip we should know? tips@mediaite.com