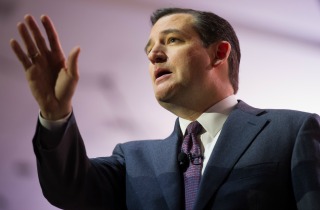 Politico reports that Ted Cruz's presidential campaign reached out to other Republican campaigns on Wednesday, asking them to help pressure Fox News to change the entry standards for the first presidential debate.
"I'm sure you are aware, the standards set by Fox News for the first GOP Presidential debate are unclear and, it would appear, undefined," Cruz staffer Chris Wilson wrote in the memo.
Fox News' August 6 debate will feature all candidates who poll in the top ten of the average of the five most recent national polls. According to Fox, those polls "must be conducted by major, nationally recognized organizations that use standard methodological techniques."
The Cruz campaign wants Fox News to exclude national polls that, among other things, poll less than 1,000 interviews with primary voters, poll using the Internet, rather than by phone, and are conducted on weekends. (Politico notes that there actually hasn't been any polls that interview more than 1,000 primary voters, meaning that suggestion would exclude literally every poll.)
According to the most recent RealClearPolitics average, Cruz is currently polling in eighth nationwide, with seven other declared candidates close at his heels. Which polls Fox decides to count could potentially determine whether or not he has a spot on the first debate stage.
UPDATE — Thurs., 10:05 a.m. ET: In a comment to Politico, Fox's EVP Michael Clemente had the following to say: "I can't wait until Senator Cruz is President, so he can tell all the networks how to run their business."
[Image via Shutterstock]
——
>>Follow Alex Griswold (@HashtagGriswold) on Twitter
Have a tip we should know? tips@mediaite.com