Terry McAuliffe Flip-Flops on His Flop-Flop on Whether Hillary Will Flip-Flop on TPP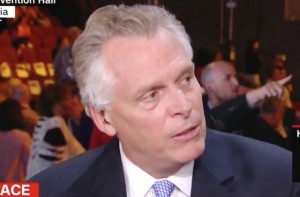 Democratic Virginia governor Terry McAuliffe claimed Wednesday that Hillary Clinton will not flip-flop on her opposition to the Trans-Pacific Partnership, a statement at odds with claims in the past two days from Clinton allies Terry McAuliffe and Terry McAuliffe, but well in line with a statement yesterday from close Clinton ally Terry McAuliffe.
McAuliffe got the ball rolling in an interview with Politico Tuesday. "I worry that if we don't do TPP, at some point China's going to break the rules — but Hillary understands this," he told them.
Politico asked whether that meant he thought Clinton would ultimately support the trade agreement once in office, contrary to her campaign promise. "Yes. Listen, she was in support of it. There were specific things in it she wants fixed," McAuliffe said.
But after Politico went to print, McAuliffe walked back his comments via a statement from his his spokesman: "While Governor McAuliffe is a supporter of the TPP, he has no expectation Secretary Clinton would change her position on the legislation and she has never told him anything to that effect." Flip-Flop One.
But the next morning, McAuliffe appeared to double down on his initial claim in an interview with MSNBC's Andrea Mitchell, saying that Clinton would support TPP after some changes were made. "To be very clear, she would only go forward if the changes that she wants are implemented, that everybody's in agreement, the labor folks would be in agreement," he said. "She's not going forward as it is today, so unless the changes are made, she's doesn't support it." Flip-Flop Two.
But McAuliffe walked back that comment again only a few hours later. "Hillary is against TPP and she is always gonna stay against TPP. Let me be crystal clear about that," he told a union event. Flip-Flop Three.
Just in: Full Terry McAulliffe walkback. "Hillary is against TPP and she is always gonna stay against TPP." pic.twitter.com/q4pgrQKlPZ

— Alex Seitz-Wald (@aseitzwald) July 27, 2016
Clinton is currently still on her first flip-flop in regards to TPP, having supported the trade deal as Secretary of State but changing her mind ahead of the Democratic primary. If McAuliffe's first and/or third position on the issue end up being correct, it would represent Clinton's second flip-flop on the issue (unless she were then to flip-flop a third time and vindicate McAuliffe's second and fourth positions).
Watch above, via MSNBC and Twitter.
[Image via screengrab]
——
>>Follow Alex Griswold (@HashtagGriswold) on Twitter
This is an opinion piece. The views expressed in this article are those of just the author.