The Blaze Hypes Unsourced, White House-Denied Michelle Obama $50K Lingerie Spree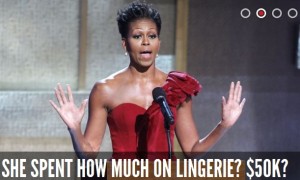 The White House is refuting an unsourced British tabloid story that alleges First Lady Michelle Obama went on a $50,000 lingerie shopping spree. You'd never know it from looking at The Blaze's front page. Even though they've posted the White House's denial, and their own original report was skeptical of the claim, their banner slideshow features a huge splash of Mrs. Obama that reads "She Spent How Much On Lingerie? $50K?"
Several UK papers (The Daily Mail, The Sun and The Telegraph) ran with the story that the First Lady, "along with the Queen of Qatar, Sheikha Mozah," went on a spending spree at high-end Madison Ave. lingerie shop Agent Provocateur. These stories provided no sources (even anonymous ones), no details, and the $50,000 claim that appears in the headline isn't repeated elsewhere in the story.
Kristina Schake, Director of Communications for The First Lady, was terse in her response to the tale, telling Mediaite "This story is 100% false."
Press Secretary Jay Carney told reporters at today's White House briefing that the story was "utterly false," and chided, ""Its irresponsible for an American news organization to repeat this story even allowing that it could be true."
Politico's awesomely-named new White House reporter Donovan Slack now theorizes that the story is a publicity stunt.
Fake stories about the Obamas' alleged extravagance are nothing new. Even before the President took office, the tabloid press were making up stories about the President buying Mrs. Obama a $30,000 rhodium ring (it wasn't a total loss; I learned what "rhodium" is. It was also the first time I ever scooped Politico.), and the soon-to-be First Lady snacking on lobster and caviar.
To be fair, The Blaze isn't the only website to run with the story, and even more mainstream sites like Politico are reporting on it, although they checked with the White House before posting it. But The Blaze appears to be the only one hyping a story they don't even seem to believe. Their initial post, by Scott Baker, features a comically detailed dissection of the story, particularly a thorough review of the lingerie company's website, and while the focus isn't really on the shoddy journalism, the tone is very skeptical.
The site also posted a story featuring the White House's denial, and yet a third story by Eddie Scarry that seems to be about Scarry's reluctance to click on the links in Baker's story, for fear of offending his fellow cafe-dwellers. In a case of textbook oversharing, Scarry says "I think I'll save the story for when I'm home. Even if it means spending the rest of my evening with images of the first lady purchasing a 'playsuit' running through my head."
It seems like I'm picking on The Blaze (I shudder to think how other conservative sites handled this), but ironically, it's because they're usually better than this. Obviously, no man is immune to the allure of a good lingerie headline, but I've not come not to expect a misleading one from The Blaze.
Have a tip we should know? tips@mediaite.com