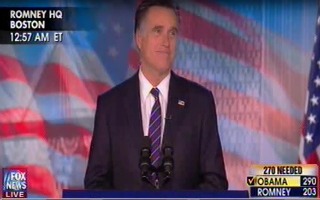 On Friday, The New Republic's Noam Scheiber published exclusive internal polling results from Mitt Romney's presidential campaign. The results in the key swing states of Wisconsin, Pennsylvania, Minnesota, Iowa, Colorado and New Hampshire showed Romney either within striking distance of or leading President Barack Obama. In concert with the conventional wisdom that uncommitted voters tend to back the challenger over the incumbent on Election Day, the Romney team was convinced that these numbers indicated that their victory was a foregone conclusion. That belief, however, turned out to be incorrect.

The internal polls were obtained by The New Republic and Scheiber sat down with chief Romney campaign pollster Neil Newhouse to discuss what the findings meant to the Romney camp. The polls were taken over the two-day weekend before Election Day: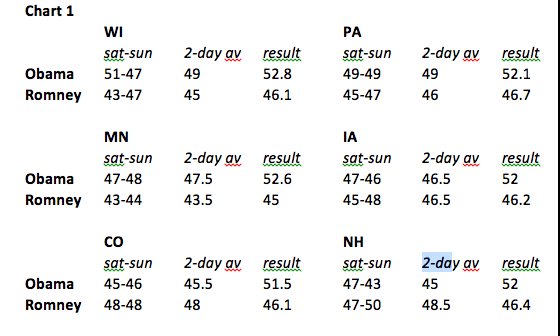 The Romney campaign's lead in Colorado and New Hampshire, and tie in Iowa, makes it clear why the Republican presidential candidate thought that victory was imminent. Combined with states like North Carolina, Virginia and Florida which many thought had been trending Republican for weeks, the Romney camp was convinced that the president was heading for defeat.
The following chart shows how voters who indicated they were very interested in the election (from 8 to 10 on a 10-point scale) intended to vote. These polls also showed Romney performing particularly well against Obama. However, the actual results shown below were surprisingly favorable to President Obama: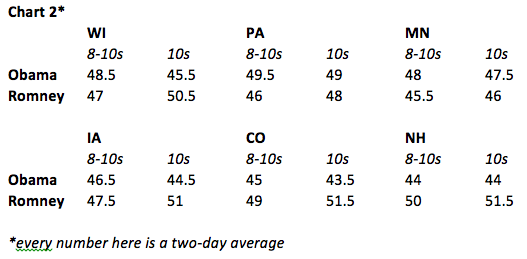 While the Romney campaign trailed slightly states like Wisconsin, Pennsylvania and Minnesota, Obama's lead was slim enough to suggest that a last minute surge could put Romney over the top. That thinking may explain the GOP presidential candidate's last minute campaign stop in Pennsylvania over the weekend before the election.
Read the detailed, exclusive story via The New Republic
> >Follow Noah Rothman (@Noah_C_Rothman) on Twitter
Have a tip we should know? tips@mediaite.com