The Media Debut Of Marcus Bachmann: How Will America Vet Its First Potential 'First Dude'?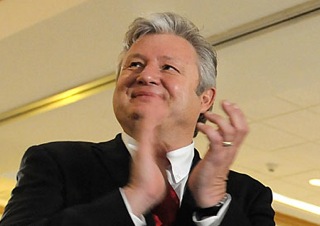 A presidential candidate's spouse occupies a truly bizarre place in the public discourse. While not choosing to run for office and only passively accepting fame, one wrong move could make or break an entire campaign. Over the years, the media has developed a system for vetting these women through the process of adopting this very particular breed of spotlight, but the arrival of serious female presidential contenders seems to have thrown a wrench in the blueprint: how should the media vet potential "First Dudes"?
Throughout most of America's history, the role of a First Lady has been necessarily limited. A First Lady was a Housewife in Chief, keeping the nation's most important hearth warm, the belly of the nation's most powerful man well-fed. As women throughout society progressed in acquiring better jobs for better pay, the First Lady slowly but surely was allowed more privileges than setting the table and keeping the kids out of trouble, though, as politics routinely lags behind organic societal evolution, First Ladies were never quite allowed the freedoms of the average housewife. While women were advancing in business and academia, First Ladies were still planting flowers and taking brave stances such as "drugs are bad." It is only in recent memory that First Ladies have been allowed to be more than fashion icons, though such attempts– take Hillary Clinton's foray into health care reform, or even Michelle Obama's healthy eating campaign– have not been met with universal praise.
Much of the suspect thinking towards the First Lady having political opinions is, of course, the product of centuries of sexist thought– nice girls aren't meant to play hardball politics, and First Ladies are meant to be the nicest girls of all. But there is another legitimate concern that transcends gender roles: no one votes for a First Lady. As Karen Peart explains in her Scholastic article "The First Lady: Homemaker or Policy Maker?",
Most of the women who have filled the position were known more for their social skills, charm, and good looks than anything they ever said or did… many Americans say [the First Lady] has no business making official policy. "Americans don't want a First Lady who gives the impression that she's running things and making policies," says Paul F. Boller Jr., author of Presidential Wives. "No one elects a First Lady, so pushing the idea of a co-presidency is seen as a betrayal."
But for the most part, the role of a presidential spouse hinges upon roles defined by men, for women. Fortunately, this paradigm is destined to be blown apart within the next century given the increasingly visible presences of women in politics, but what will replace it has yet to be defined. What makes for a good "First Dude," the title Sarah Palin proudly used to refer to her husband, Todd? The good news is that, unlike the definition of a First Lady, this responsibility falls squarely in the hands of the media, not preordained gender tropes. The bad news is that, unlike the definition of a First Lady, this responsibility falls squarely in the hands of the media, which have absolutely no experience in constructing such expectations. In fact, 2012 is poised to be the first presidential election year in which the media will get the chance to evaluate a serious presidential candidate's husband, despite it being only the second presidential election year in which a woman has a legitimate chance to win the presidency (alas, fitting Bill Clinton into a box– any box– proved impossible).
Given the fact that Palin is neither considered a serious presidential contender nor actually running for president, Rep. Michele Bachmann's husband Marcus Bachmann has inherited the privilege of being the media's guinea pig in this experiment. Politico is leading the charge with their profile of Bachmann published yesterday, where they explore what Marcus's role in aiding Michele's campaign is, and ruminate on what it would be like to have him in the White House. Most reports describe Bachmann as "mild-mannered" and "low-key"– with a campaign role Politico describes as "equal parts confidant, body man, image consultant, and political strategist." Politico is also quick to note that being a candidate for "First Dude" and not "First Lady" means Marcus Bachmann, a mental health professional in the couple's home state of Minnesota, brings an added weight to the campaign: "as a man, rather than a woman, he's likely to face a different kind of intensity in the attack — how he and his wife respond to them will almost certainly have an impact on Bachmann's presidential plans." With that in mind, these are the most personal descriptions of Bachmann in the piece:
"Marcus has a very relaxed and calm demeanor that serves as a wonderful counterbalance to Michele's impulsive and compulsive personality," said Ron Carey, Bachmann's former chief of staff, who now supports Tim Pawlenty for president. […]

They even matched. He wore a yellow tie Wednesday to match her yellow dress, which she told a crowd was the same color as the "Don't Tread on Me" flag that has been picked up as a symbol of the tea party movement.
So at least this medium has decided that, just like a First Lady, what a First Dude wears is fair game, and being relaxed and apolitical seems to be the way to go. Unfortunately, because politics routinely lags behind organic societal evolution, "relaxed and calm" with "a yellow tie to match her yellow dress" took very little time to become code words for "gay." Gawker ran a "Marcus Bachmann is gay" Twitter roundup over the weekend that quoted Cher and Keith Olbermann as among those that doubt his heterosexuality, and this Wonkette Blingee is really all you need to know about what they think. Sure, some of the criticism could be said to be self-inflicted.
Any man who likens LGBT people to "barbarians" and marries someone who campaigns against same-sex marriage opens themselves up for the obvious "thou doth protest too much" jokes, but this isn't about his beliefs– it's about how he waves to a crowd, what he dresses like, and how he adheres to certain ideals of manliness or not. While Bachmann may be the first man to face such proper scrutiny, he does not get the privilege to set the precedent of what the ideal First Dude must be like– that honor went to the original "First Dude," Todd Palin, who set the masculinity bar at unfathomably high levels. Todd Palin's idea of a relaxing day out is killing things and racing across the notoriously feral Alaskan countryside. If he's up for a challenge, he goes out and wins dog sled or snowmobile races. The one time he didn't win, he still came in fourth in the world's longest snowmobile race– despite having a broken arm. To paraphrase a line from Seth Meyers, Todd Palin could make Bear Grylls look like RuPaul, so it makes sense Marcus Bachmann may come off as comparatively effeminate.
America has proven in recent memory that it is not ready for another mouthy First Lady who thinks she's entitled to public political opinions– the implosion of Teresa Heinz Kerry, which ultimately concluded in her shouting "shove it!" at a journalist, proved as much. Whether Rep. Bachmann's campaign, unlike Sen. Kerry's will in its totality be enough to override any spousal image issues is yet to be seen, but the heightened scrutiny around him raises a question that's impossible to ignore: is America ready for a First Dude that doesn't eat dirt-flavored nachos while watching the Super Bowl and bidding on Guy Fieri-style flame shirts on eBay?
Have a tip we should know? tips@mediaite.com