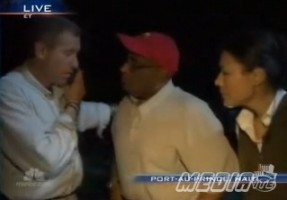 If you are a watcher of the nightly network newscasts you probably noticed that the all the networks had got their teams on the ground in Haiti in order to be able to broadcast live from there last night. NBC not only sent Brian Williams but also Ann Curry and Al Roker from the Today Show team (video below) who took turns reporting back to Lester Holt last night from a scavenged satellite phone a television camera (via the generosity of Reuters) that did not sync up (there is something weirdly affecting in this day and age to see even the most advanced media outlets struggle with technology). Obviously up until sometime yesterday afternoon CNN owned the coverage, primarily because reporting breaking news is what they do best and they were able to get on the ground before anyone else.
Over at the LA Times, Matea Gold has a great piece detailing how some reporters negotiated the tough and often dangerous trip to Haiti in the aftermath of the Earthquake:
CNN's Anderson Cooper appeared to be the first television reporter to make it into the country, by hitching a ride Wednesday morning on a government helicopter from the Dominican Republic, which shares the island of Hispaniola with Haiti. The copter was nearly clipped by a plane as it approached Port-au-Prince. CBS' Kelly Cobiella reached Haiti shortly afterward, after driving through the night on a dangerous road from the Dominican Republic.
And this from NBC head Steve Capus:
"You're trying to move a small army into place, all the while knowing you're walking into a place where all infrastructure has crumbled," said NBC News President Steve Capus, who compared the situation in Haiti with the conditions reporters confronted in covering Hurricane Katrina. "Sometimes you have to just go in and hope you can compensate the best you can."
And this from CBS, which once again highlights the necessity of news operations who are able to fund the sort of reporting necessary in circumstances such as these.
Bill Felling, CBS' national editor, worked throughout the night Tuesday trying to get Couric into Haiti, finally locating a plane in the Dominican Republic. Felling said CBS News President Sean McManus didn't blink when he asked him to sign off on the cost, a sum he said was not insignificant.

"When big stories break you have an obligation to cover this to absolute maximum of your ability," Felling said. "You can't quite get the power of this until you see people's faces and the extent to which they emote the pain that they are going through."
After the jump video of Brian Williams and the Today team attempt to call in from the Haiti airport.
Have a tip we should know? tips@mediaite.com