The New House Intel Chair Once Called GOP Colleague 'Al Qaeda's Best Friend'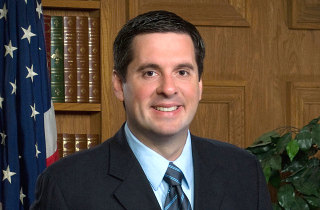 Call your colleague "al Qaeda's best friend" and one day you'll be taken seriously enough to get selected to chair the House Intelligence Committee. That's the life lesson we learned today from Rep. Devin Nunes (R-CA).
Speaker of the House John Boehner (R-OH) announced Tuesday afternoon that Nunes would succeed Rep. Mike Rogers as chair.
"Today we face a sophisticated and determined terrorist enemy that is intent on killing more and more Americans, not to mention innocents around the globe," Boehner's statement read. "The world is becoming increasingly dangerous and the Intelligence Committee is vital to our efforts to protect the American people. Over the past four years, Devin has been instrumental in ensuring that our intelligence professionals have the resources they need to keep America safe. He has asked the tough questions and conducted serious oversight to hold the Obama administration accountable."
Rewind to May 2014 and you may recall that Nunes infamously called libertarian-leaning Rep. Justin Amash (R-MI) "al Qaeda's best friend" for having the audacity to challenge the government on issues of national security, surveillance, and warfare.
Aside from building a reputation as an earnest, ideologically consistent lawmaker — for most of his votes, he posts his corresponding rationale to Facebook — Amash has become a target for many hawkish, "establishment"-type Republicans like Nunes and Rogers (though they failed to primary him out of office). His lack of subservience to the Republican apparatchik has gotten him booted from the House Budget Committee.
For those concerned about government snooping and an expanded warfare state, the continued ascendance of hawks might feel deflating until you realize who was the other top choice for the Intel gavel: Rep. Peter King (R-NY), he of "arrest journalists," abuse civil liberties, and support Irish terrorists fame.
— —
>> Follow Andrew Kirell (@AndrewKirell) on Twitter
Have a tip we should know? tips@mediaite.com