The President Of Vice: Joe Biden's Autobiography To Be Published By… The Onion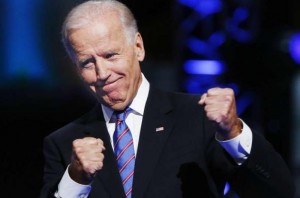 Vice President Joe Biden has an autobiography due out soon. And it's published by the ever-earnest outlet The Onion. The book will delve into Uncle Joe's past… including his college years and "all the hot ladies he's hooked up with over the years."
On Friday, the e-book, The President of Vice, will hit the Kindle Singles store on Amazon. It promises "the vice president's insights on his beloved muscle car ('I still get butterflies fluttering around in my stomach every time I lock eyes with those gold snowflake rims')" and "religion ('God's a pretty down-to-earth dude')."
Here's a taste of what the reader can expect (via The New York Times):
"Hombre, you've just done Uncle Joe a real solid buying this book," begins the foreword to a new autobiography attributed to Vice President Joseph R. Biden Jr. "I ain't the kind of guy who forgets his debts. Next time we meet there's a tallboy of ice cold Beast on me. And if you're a lady, I know a few tricks to repay you with interest, if you catch my drift."
Onion editor Alex Blechman told the Times that the book offers a way to go beyond the singular Biden quips and gaffes that have become his trademark.
"With articles it's usually smaller moments in time — his latest adventure or mistake," Mr. Blechman said. "If you go back and look at his story, you can see whole chapters of his life: his time in college; his time road-tripping to Mexico; all the hot ladies he's hooked up with over the years."
Get excited, y'all.
Have a tip we should know? tips@mediaite.com