This Exists: Hardcore Pornography Accidentally Projected During High School Assembly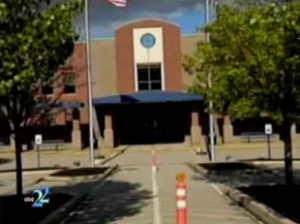 Anyone who uses their personal computer for work knows the inherent dangers that could be unleashed with the press of a wrong button (I, for one, am petrified to think that my coworkers might one day know how much of my laptop is filled with seasons of Boy Meets World). Well, an employee of a Pittsburgh high school endured the worst case scenario recently when a flash drive malfunction projected his or her collection of hardcore pornography to the student body during a blood drive assembly.
The incident happened during a blood drive presentation at Norwin Senior High School. When a flash drive was inserted the screen was accidentally filled with, what one student described as "just a lot of male genitalia." Clearly those high school students were having a lucky day. Not only did they get out of class, they also got the best story ever. Something tells me that it probably took quite a bit to get the kids to settle down after that one. One can only hope that there was some kind of stern authority figure on hand to get the kids quiet.
Really though, the most interesting part of the news report below is how the incident is described as taking place for "at least 30 seconds." If it took more than half a minute for someone in the staff to say, "Gee, I should turn all these penises off," and make their way up to the projector, I think that school needs to start instituting Phys. Ed classes for the teachers.
(via Perez Hilton)
Have a tip we should know? tips@mediaite.com