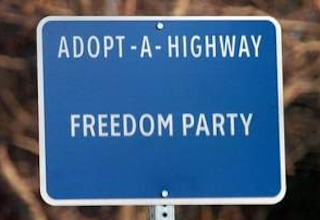 Somewhere in Delaware right now there's probably an old man sitting in front of a convenience store an attempting to give out directions to a passer-by. "Oh, you don't want to go down that road," the man's saying. "That there road's a Nazi road."
In Delaware's Sussex County, a local Nazi couple (oh, every town's got one!) has successfully adopted a highway on behalf of their Nazi group. They've been petitioning the Delaware Department of Transportation to join the Adopt-a-Highway program since the summer and, after being turned down a couple times, part of Cedar Grove Road has now been Nazified. It's only a two mile stretch but, who knows? If there's one thing Nazis are known for, it's expansion.
The reason the group was turned down on previous attempts was apparently the name they wanted to put on the signs commemorating the "adoption." At first, the gentleman, Edward McBride III, used the name "National Socialist Freedom Movement Nazi Party." Shockingly, this was rejected. McBride, apparently completely unable to guess which part of that people might object to, then applied again with the name "NSFM88 Nazi Party." This was rejected as well. I guess the problem wasn't the length.
Finally, success! From The News Journal:
"McBride, 24, turned to his wife, Katelyn McManus, to submit an application under her name — with their same Lewes address — for the road to be adopted by the 'Freedom Party.'

DelDOT accepted McManus' application to join the program and two signs recently went up along Cedar Grove Road between Ward Road and Plantation Road.

'Sure enough, the application was approved without a single problem,' McBride said."
Really, if you get beyond all the tricky Nazi stuff, this is a lovely story about a husband and wife working together to achieve their dreams. That's kind of romantic, right?
Ok, maybe not. But, if you think Delaware Nazis are bad, you better just hope the road doesn't go north. Then you might get stuck dealing with those damn skinheads from Maine.
Have a tip we should know? tips@mediaite.com