This Story About An Arrested Florida Puppeteer Is Probably Going To Make You Vomit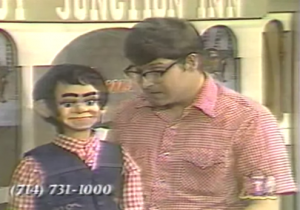 Brace yourself, because this post is a bit of a doozy. Florida Christian puppeteer Ronald William Brown was arrested last year and officially convicted this week on… excuse me, I need some water… on charges of possession of child pornography and conspiracy to kidnap a child (he was not convicted on the latter, though). But in addition to that, Homeland Security agents that entered his house found pictures of children bound and gagged, as well as pictures of dead kids.
Brown did a Christian puppet act, including this one bit where he talks with his not-at-all creepy puppet about not looking at online pornography, but that was only the surface of this apparently twisted individual.
[T]here was another side to Brown, according to a 29-page criminal complaint filed July 20 in federal court in Tampa: The man who, as he was feeding pizza to teenagers, nursed fantasies of murdering and eating them. The one who acted out Bible stories with puppets at his church, while musing online about carving and cooking the body parts of a young parishioner for Easter.
And in addition to this, Brown reportedly told agents he did "discuss killing, dismembering and eating" a boy at his church with "another alleged child cannibalism enthusiast," but assured them it was just a fantasy and he would totally never act on it.
These two even reportedly talked about "killing–what they called 'snuffing'–children as young as two." There's also this fun little detail providing backstory into this whole nasty mess.
In 1998, a Pinellas County sheriff's deputy stopped Brown for a traffic violation and observed boy's underwear between his front seats. Brown said he used the underwear to dress his puppets.
Brown was sentenced to 20 years in federal prison this week, after he pled guilty to the child pornography charge, followed by a lifetime of probation.
Watch this video of Brown's Christian anti-porn puppet act below:
h/t Uproxx
Have a tip we should know? tips@mediaite.com
Josh Feldman - Senior Editor