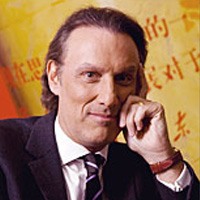 Steve Murphy resigned yesterday as CEO of Rodale — the family owned publishing concern that counts Men's Health, Prevention and Runner's World among its many titles — to be replaced by Maria Rodale, granddaughter of founder J.I. Rodale. Reports that Murphy's $3MM a year contract is set to expire at the end of this year begs the question – was Murphy departure part of a larger cost cutting plan? And are seven figure salaries in publishing becoming a thing of the past?
Murphy is somewhat of a legend in the publishing world for taking the family owned Emmaus, PA based publishing company and making it a serious competitor to the giants of the industry like Time Inc., Hearst and Conde Nast. And his $3MM annual salary reflected the very profitable decade he spent at reimagining the Rodale brand. But in an exceedingly difficult ad climate, that salary likely was not in scale with current revenues. Mediaite's efforts to reach Rodale have yet to result in a comment.
Lucia Moses reports in MediaWeek:
Murphy started with Rodale in 2000 as president and COO. He was named CEO two years later, succeeding Bob Teufel, another non-family member CEO. Murphy was credited with pushing the company's well-known brands into other formats like events, Web and videos. Under his watch, Rodale published the popular South Beach Diet book and launched the hit diet book franchise Eat This, Not That! by Men's Health editor Dave Zinczenko. In a press release announcing the handover, Rodale said the company had its most profitable period under Murphy.

But the company has been challenged, along with the rest of the magazine business, to adapt to changing media usage habits and the current dropoff in advertising. In the past year, Rodale closed fledgling men's lifestyle magazine Best Life after a 38.5 percent drop in ad pages; combined the sales forces of Men's Health and Women's Health; and shed 131 employees.
Its no secret that publishers are looking everywhere to cut costs — just last week it was reported that Janice Min was unwilling to take a pay cut to stay on as EIC at US Weekly. It appears that huge salaries are not just a thing of the past, but they also make one extremely vulnerable to cutting costs. Now might actually be a good time to make less money than you think you might deserve.
Have a tip we should know? tips@mediaite.com