Time's Person of the Year Shortlist Includes ISIS Leader, Putin, Trump; Omits Deserving Democrat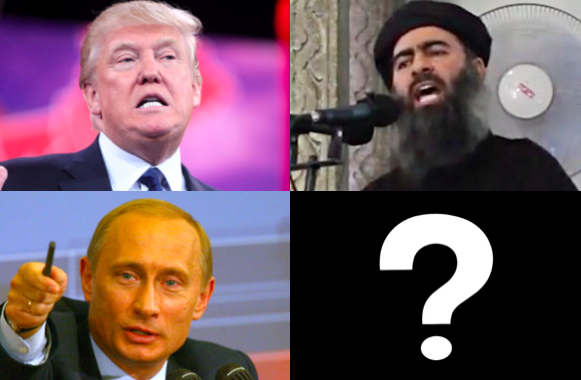 When you think about who should win Time's Person of the Year award, does the leader of ISIS come to mind? After all, most Americans — even most media members — couldn't tell you his name. But on today's announcement by Time of its eight finalists on NBC's Today Show, there he was (Abu Bakr Al-Baghdadi).
Now… the quick and easy narrative here would be to bash Time for providing ISIS this kind of prestige and platform. However, the magazine has always been consistent with its criteria for consideration (paraphrasing): The award goes to not who the best person of the year is, nor the most altruistic or inspiring. Instead, it's all about who or what had the biggest impact and wielded the most influence that particular year (I go into more detail here on said criteria and the business aspect with Jake Tapper and Brian Stelter on CNN after Edward Snowden was shunned for the Pope in 2013).
So if we're talking about the leader of ISIS, an argument could be made for the nomination given how ISIS' rise and visibility this year… except… the terror group isn't like Al Qaeda was under Osama Bin Laden. It's not based around one figurehead. If Al-Baghdadi were killed tomorrow, it would make big news, sure, but most Americans would simply shrug after a new Al-Baghdadi 2.0 is named as his replacement in about 17 minutes. In the end, ISIS is a worldwide organization with thousands of subsets, interchangeable parts. It's an evil, ruthless, well-funded, widespread (partially because of social media) 7th-Century mindset and 21st-Century communication capable-organization that doesn't go to the beat of one voice. And that's why the leader of ISIS as Person of the Year is a wrong choice… not because of what ISIS represents.
Besides… Time isn't actually stupid enough to go down this road and award ISIS in any capacity, anyway. Yes, it once named Hitler and later Stalin as Man of the Year (before the "Man" part was deemed sexist), but lately has avoided choosing anyone deemed a true enemy of the United States (Osama Bin Laden didn't "win" in 2001, for example, with the magazine opting for the much safer-from-a-PR-perspective Rudy Giuliani, who was mayor of New York City during 9/11). So while the Al-Baghdadi nomination has generated some "What-are-they-thinking?" buzz, he ain't winning for business and PR reasons alone.
As for your other nominees, here's your hits and misses:
Hit: Donald Trump: Unfiltered. Unafraid. Petulant. Popular. Polarizing. Politically Incorrect twentyfold. That's the perfect combination for the mindset of political news culture today, which always opts for sizzle over steak: Donald's always good for 2-3 jaw-dropping soundbites per day and provides enough material plenty for Democrats and even some Republicans to get upset about. As a result, he dominates every news cycle outside of big breaking news (and proceeds to somehow dominate the aftermath of said news anyway). Unless the editors are tone deaf and/or politically correct, for better or worse (OK, just worse), Trump wins. It's shouldn't even be close.
Miss: Another candidate who should have been nominated but ignored… Bernie Sanders. Seemingly came out of nowhere to challenge Hillary Clinton (for awhile in Iowa and New Hampshire, anyway). Pushed the frontrunner decidedly to the left. Has drawn enormous crowds — particularly millennials — only rivaled by Trump, and proves big money doesn't buy elections the way it used to (ask Jeb Bush). In a related story, Bernie easily won in Time's online readers' poll, doubling up his closest competitor (my choice last year, Malala Yousafzai) and beating Hillary Clinton by a 9-1 margin.
Miss: Caitlyn Jenner: The ridiculous ESPY award for most courageous (when considering whom she beat) has already been more than enough. Thanks.
Hit and miss: #BlackLivesMatter: Time just loves its protestors, having awarded the Occupy Wall Street movement in 2011. In a related story, income inequality and the gap between rich and poor has never been wider. In another related story, 2015 Time nominee Black Lives Matter has featured protestors who have chanted "Pigs in a Blanket, fry 'em like bacon!" and recently called students at Dartmouth during a library protest, "filthy white f**ks". As far as actually solving anything around police misconduct or procedure as it pertains to the minority community, the movement appears to have no interest in, you know, actually listening to or working with anybody. And the way BLM goes about their business does nothing to bring both sides together. Nothing… all while bullying its way into the national spotlight. All of that said, if Trump doesn't win, it likely will.
Hit: Vladimir Putin: Dominated the news cycle pre-Trump with takeover of Crimea and turning Ukraine upside down. If the award were given out in June, the former KGBer would be the favorite.
Miss: Pope Francis: His visit to the U.S. was the feel-good week (regardless of your religion) of the year during an otherwise dismal 12 months. No Pope has ever generated this much attention or conversation, particularly from American media. Winner? Maybe (various Popes have won the award three times). Was he at least worthy of a nomination he didn't receive? Absolutely.
Hit: Travis Kalanick: The Uber CEO has now led his transformative transportation company to a nearly $70 billion valuation. But given Kalanick's low name recognition — and Uber's mostly-urban appeal… making it an almost foreign concept to most in suburban areas — it makes it difficult for him to win because his face on the cover simply isn't going to sell even half as many copies that a Trump cover would (not justifying it, it's just the lay of the land). If only Fortune or Forbes handed out a similar award to those in the business community, Kalanick would likely be the favorite.
Other nominees on Time's shortlist that aren't hits or misses, just blah: German Chancellor Angela Merkel (German Chancellor) and Hassan Rouhani (Iran president).
It's never a perfect science handing out awards (explain again how Dances with Wolves beat Goodfellas for Best Picture, for example). There's always an upset, always a snub. Time Magazine has been handing these out since 1927. Every year has its share of controversy…
2015 will be no different. Trump should win going away. Bernie supporters will cite his online victory and rightly #feelthebern for being snubbed. Some will scream about Time's lack of decency and moral compass around the ISIS consideration, all without having much of an idea of what they're talking about.
Time announces the winner on The Today Show Wednesday morning. Place your bets below, but it's likely this thing is already long decided.
— —
Follow Joe Concha on Twitter @JoeConchaTV
This is an opinion piece. The views expressed in this article are those of just the author.