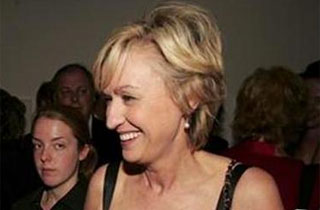 Oh look, here's one figure in the lamestream librul media telling Hillary Clinton not to run in 2016: Tina Brown, the former EIC of the Daily Beast, attempting to convince her that the presidency is "too much stress for too little return."
In an op-ed published this morning, Brown argued that Hillary's already in that plum position afforded only to ex-presidents, where they get to command huge speaking fees at college commencements, bring attention to obscure policy matters, travel around the world to glitzy international conferences, and be treated as highly intelligent diplomat/celebrities. (89-year-old Jimmy Carter gets to talk about toilets in Africa! And people care! No one did that when he was actually president!)
And Hillary didn't even have to go through the part of the presidency where everyone hates everything she does. "It's not that you can't get anything done," Brown conceded, but "it's that what you can get done is so paltry compared to what you wanted and expected to get done. You are doomed to disappoint the people who elected you. You'll disappoint yourself."
We can't help but think, however, that Brown is perhaps suggesting Hillary might be too old for this, underscoring the lucrative, "pleasant" prospects of a post-presidential life with the fact that she's 68 and, if elected for two terms, will leave office feeble and closer to death, or something:
For Obama and Michelle [52 and 50, respectively] it will be fantastic, because they are young enough to have a long, massive, wildly interesting presidential afterlife…If she becomes president at 68 it will be another press onslaught from hell and such a hog-tied two terms, only the festive delights of hip replacement surgery will await her by the time she gets out.
In the same article, she mentions that George H.W. Bush enjoyed his post-presidency by skydiving, which an old, seventy-something Hillary will totally miss out on if she's president. (Brown forgot to mention that Elder Bush was 85 when he went skydiving, but he's a man, and a man's 85 is a woman's 63, duh.)
Oh, and Brown says that becoming the first female president isn't such a big deal anymore:
In the 2008 campaign the chronic negativity of the ladies and gentlemen of the press was relentless, and the gouging of Hillary was wholly unrelated to either her record or her behavior. It was just that her story had gotten old. It required new angles, or, heaven forbid, new facts, to make it interesting—whereas Barack Obama was a story that wrote itself.

The first black president was a hotter plot line than the first woman president. Bad luck for Hillary.
And because of Tina Brown's opinion, Hillary cried, let go of her dreams, and resigned herself to an old folks' home and a walker covered in tennis balls to peacefully die. Ha. Nope. She's probably gonna live until 95, because we have modern medicine and a longer life expectancy for women.
[The Daily Beast]
[Image via Paul Hackett/Reuters]
—
>> Follow Tina Nguyen (@Tina_Nguyen) on Twitter
Have a tip we should know? tips@mediaite.com