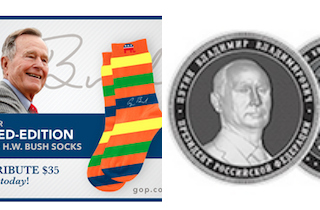 Straight from the Elvis Commemorative Dinner Plate and 2007 New England Patriots Official Super Bowl XLII Champion Jersey Disposal File comes the latest in merchandising opportunities, now featuring limited edition George H.W. Bush official socks and Vladimir Putin Crimea Coins. You buy it!

First up: I'm as guilty as anybody in participating in the rehabilitation of former one-term President George Herbert Walker Bush based entirely on his cute-old-man predilection for zany socks, but the GOP's attempt to hawk them for political donations might be a good time to remember that Bush was once head of the CIA and probably did and ordered all sorts of nasty, non-cute-old-man le Carré-type operations, and that papering over such a history with cute memes is one of the ways we legitimize stuff like that.
But hey, if wacky socks are still your thing, a cool $35 will snag you a monogrammed pair. The limit is $32,400, so try to keep it under 925 orders: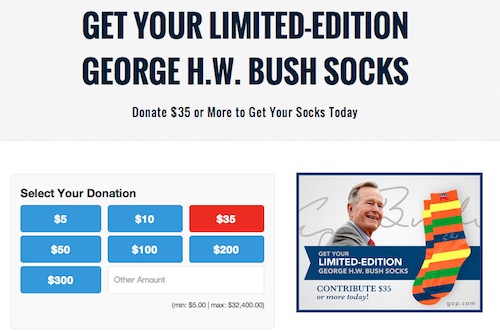 Meanwhile, wasn't it awesome how Russian President and 2005 Super Bowl Champion Vladimir Putin just took Crimea? He just took it! In broad daylight!
A good way to store that theft close to your heartwallet is with special commemorative coins emblazoned with Putin's goober-dad mug on one side and Crimea's dangly-shape on the other: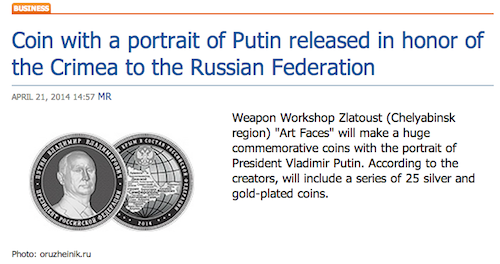 Buy one. Put it on your nightstand. Let it mix in with the rest of your coins dumped in despair at the end of every workday. Then, when you're at the Laundromat and you go to put that last coin in, and it doesn't fit, and the change machine's broken, and you realize life is just one damned misery after another, flip the coin over and think to yourself: Putin!!!!!!
[Images via screengrab]
——
>> Follow Evan McMurry (@evanmcmurry) on Twitter
Have a tip we should know? tips@mediaite.com