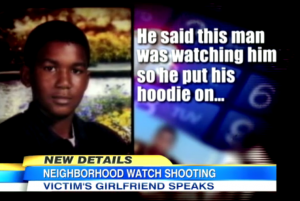 According to phone logs, Trayvon Martin's 16-year-old girlfriend was on the phone with him moments before he was shot. ABC News is reporting the details the girl, who wished to remain anonymous, told Martin's family attorney. She recalls Martin saying a man was watching him — and that she told Martin to run.
""He said this man was watching him, so he put his hoodie on. He said he lost the man," the friend said. "I asked Trayvon to run, and he said he was going to walk fast. I told him to run but he said he was not going to run."
Eventually he would run, said the girl, thinking that he'd managed to escape. But suddenly the strange man was back, cornering Martin.

"Trayvon said, 'What, are you following me for,' and the man said, 'What are you doing here.' Next thing I hear is somebody pushing, and somebody pushed Trayvon because the head set just fell. I called him again and he didn't answer the phone."

The line went dead. Besides screams heard on 911 calls that night as Martin and Zimmerman scuffled, those were the last words he said.
Martin's parents also listened to the call. His father, Tracey Martin, said, "He knew he was being followed and tried to get away from the guy, and the guy still caught up with him […] And that's the most disturbing part. He thought he had got away from the guy, and the guy back-tracked for him."
ABC News notes that George Zimmerman, the neighborhood watchman who shot Martin, "violated major principles of the Neighborhood Watch manual," which states, "It should be emphasized to members that they do not possess police powers. And they shall not carry weapons or pursue vehicles."
Take a look, via ABC News:

Have a tip we should know? tips@mediaite.com