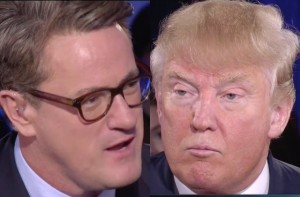 In an interview with CBS' Face the Nation Sunday, Republican presidential candidate Donald Trump said that MSNBC host Joe Scarborough called him and posted a tweet about Trump's stance on the Iraq War that was "basically… on my side."
After evidence emerged last week that Trump actually supported the Iraq War before it began, Scarborough posted a tweet Saturday morning noting that Trump "expressed concerns" about the war months after it began.
Trump expressed concerns several months after the Iraq War began, while 60% of Americans still supported the war. pic.twitter.com/9NAXNuMG0Y

— Joe Scarborough (@JoeNBC) February 20, 2016
Scarborough earned some scorn on Twitter for that tweet, especially for its slickly produced nature. "Are you making ads for him now?" The Daily Beast's Gideon Resnick asked. Trump of course immediately retweeted it.
"@JoeNBC: Trump expressed concerns months after the Iraq War began, while 60% of Americans still supported the war. pic.twitter.com/YmJBSgPRa7"

— Donald J. Trump (@realDonaldTrump) February 20, 2016
Trump alluded to the tweet on Face the Nation the next day when defending his Iraq record, and appeared to say that Scarborough contacted him about it. "Actually, Joe Scarborough called yesterday and put something out [that] basically is on my side. And that was early on, and that was before the fact, and it was very early on."
"I guess he interviewed me years ago at the very beginning. And that was just put out yesterday evening, and I thank Joe for that," he continued.
Trump also cited Scarborough's tweet during his appearances on Fox News Sunday and NBC's Meet the Press. "He put out a tweet saying, 'Trump is right,'" he told NBC's Chuck Todd. Trump incorrectly claimed in all three interviews that Scarborough proved he opposed the war before it began.
Scarborough has admitted before to speaking with Trump on the phone to give him debate tips. Trump recently called the MSNBC host and his co-host Mika Brzezinski his "supporters" during an on-air interview, which led to hasty denials and a ten-minute rebuttal from the duo the following week.
Watch above, via CBS News.
[Image via screengrab]
——
>>Follow Alex Griswold (@HashtagGriswold) on Twitter
Have a tip we should know? tips@mediaite.com