Trump Says Clinton Made Up Quotes About Him So She Provides Links to Every Single One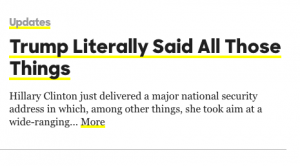 Yesterday, Hillary Clinton gave a speech on foreign policy that was a direct attack on Donald Trump, whose own foreign policy knowledge is lacking in such a way that CNN has now chosen to fact-check in real time so that viewers can see when he reneges on something he's said, like his belief that Japan should have nukes.
Trump hasn't taken well to her speech. He has attacked those who lauded it and gone after Clinton, too. Just as he did yesterday when he tried to claim that he never spoke out in favor of Japan getting its own nuclear arsenal, he tried to insist that everything Clinton said about him in her speech was a lie.
In Crooked Hillary's telepromter speech yesterday, she made up things that I said or believe but have no basis in fact. Not honest!

— Donald J. Trump (@realDonaldTrump) June 3, 2016
She responded with a link to her site, The Briefing. That link leads to a quote-by-quote breakdown of her speech. Each assertion made about Trump's beliefs is backed up with a link to the interview or press conference during which he said it.
You literally said all those things. https://t.co/6VX5AfR7gL https://t.co/U8LfWdPU7x

— Hillary Clinton (@HillaryClinton) June 3, 2016
From saying he has no issue with abandoning our allies in NATO to the direct quote in which he insisted he knows more about ISIS than America's own military generals do, the takedown is thorough and scathing.
A sign of the times though it may be, it is worth noting that Clinton's tweet linking to The Briefing has garnered more retweets than Trump's initial claim that she lied about his quotes.
Spend your weekend pondering what this all means for the future of the country.
[image via screengrab]
For more from Lindsey, head to Twitter or Facebook.
Have a tip we should know? tips@mediaite.com