Trump Slammed on Twitter for Going After NFL Again: 'The Michael Cohen Tape Must Be Bad…'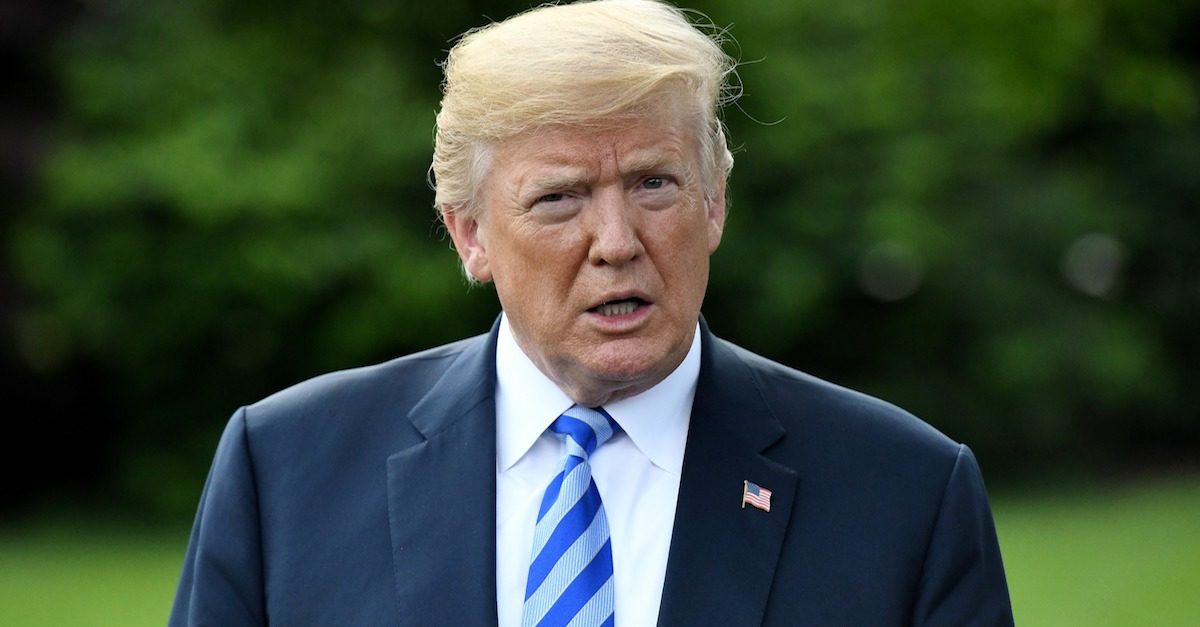 President Trump dredging up the NFL anthem controversy over the newest developments there was very clearly viewed as a means of moving on from, well, all the bad news for him this week.
The President is still dealing with Helsinki fallout and this new Michael Cohen bombshell and, after a dig at the "fake news" again, tweeted this tonight:
The NFL National Anthem Debate is alive and well again – can't believe it! Isn't it in contract that players must stand at attention, hand on heart? The $40,000,000 Commissioner must now make a stand. First time kneeling, out for game. Second time kneeling, out for season/no pay!

— Donald J. Trump (@realDonaldTrump) July 20, 2018
Trump has, of course, exploited this issue over and over and over, including at that "celebration of America" event after the Eagles fracas last month.
And so a lot of people on Twitter called out the topic-shifting:
Trump's go-to move to generate new headlines: Stir up the NFL National Anthem controversy https://t.co/euEJIhzUDE

— Philip Rucker (@PhilipRucker) July 20, 2018
Mr. Putin's Pet wants to change the subject. https://t.co/muUtQP4lI1

— John Legend (@johnlegend) July 20, 2018
Loosely translates to "I wonder what else Michael Cohen recorded." https://t.co/ML1KrmolGh

— Orin Kerr (@OrinKerr) July 20, 2018
If my ex-attorney had me on tape talking about some Playmate I paid off after we slept together I would tweet the exact same thing https://t.co/FJFp3NEgY3

— Ike Barinholtz (@ikebarinholtz) July 20, 2018
Not really. What America is debating right now is betrayal in Helsinki, covered-up hush payments, kids in cages, and a couple of other things https://t.co/TiVrsMc5lT

— Mark Follman (@markfollman) July 20, 2018
New category for my column:
—
Predictable Presidential Diversionary Tactic of the Week https://t.co/f4UG82rCXT

— Peter King (@peter_king) July 20, 2018
It's almost like the President is trying to change the subject from something else https://t.co/8NCgmsv3Hv

— Ben Jacobs (@Bencjacobs) July 20, 2018
Feeble attempt at changing the subject —> https://t.co/eKEnUpsueG

— Alexandra Jaffe (@ajjaffe) July 20, 2018
I guess the Michael Cohen tape must be bad since we're back to ripping the NFL a new one.

— Liz Mair (@LizMair) July 20, 2018
Please talk about the NFL again, not about my horrible week with Putin, or my lawyer recording me talking about payments to a playboy model.

Sincerely,
Donald J. Trump https://t.co/IzoosrXzqB

— The Reagan Battalion (@ReaganBattalion) July 20, 2018
What is the fine for a President when they kneel and are submissive to Putin? #askingforpatrioticamericans #dontgetdistracted https://t.co/2SooDuL8vg

— Ruben Gallego (@RubenGallego) July 20, 2018
[photo via Getty Images]
— —
Follow Josh Feldman on Twitter: @feldmaniac
Have a tip we should know? tips@mediaite.com
Josh Feldman - Senior Editor