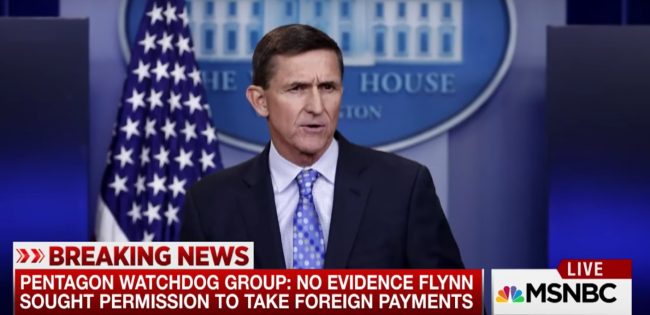 Donald Trump has a message for the staff at 1600 Pennsylvania Avenue: Be nicer to Michael Flynn. 
According to a Sunday night report from Axios, the Commander-in-Chief has been angered by news that his White House has been leaking damaging information about Flynn to the media. Trump, reportedly remains fond of Flynn, even as the general's troubles have deepened in recent weeks.
While his team of professional political knife fighters have been itching to feed Flynn to the wolves, no such directive has ever formally come from the Oval Office, and it is not expected to.
Trump even gave a shoutout to Flynn today this morning on Twitter.
General Flynn was given the highest security clearance by the Obama Administration – but the Fake News seldom likes talking about that.

— Donald J. Trump (@realDonaldTrump) May 8, 2017
Lt. Gen. Flynn set records earlier this year after he resigned his position as National Security Adviser after just 24 days on the job. He was dismissed by Trump after he mislead the Vice-President Pence about the extent of his contacts with Russian ambassador Sergey Kislyak. Since leaving the West Wing, news emerged that Flynn improperly gave paid speeches in Russia and was serving as the agent of a foreign power.
[image via screengrab]
Have a tip we should know? [email protected]