Trump Warns WaPo Reporter If They Run Story About Casino Bankruptcy, 'I'm Suing You'
Trump Warns
WaPo
: If You Run Casino Bankruptcy Story, 'I'm Suing You'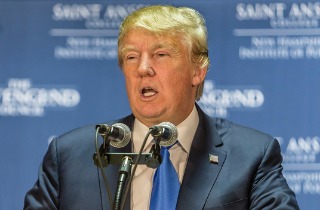 The Washington Post has a very in-depth report tonight about his role in the bankruptcy of his Taj Mahal Atlantic City casino back in 1991. They concluded that Trump has repeatedly "play[ed] down his personal role" in its downfall.
And Trump responded by warning the paper he might sue them.
The Post––which chronicles Trump's history in the casino business––obtained documents showing plenty of the people he interacted with at the time were very bitter because of unfulfilled promises.
At one point, the report features Trump's testimony before the Casino Control Commission years before, in which he argued to get a casino license. He said at one point, "It's easier to finance if Donald Trump owns it. With me, they know there's a certainty they would get their interest."
And when asked if anything could go wrong, Trump mused, "We can have a depression. The world could collapse. We could have World War III. I mean, a lot of things can go wrong. I don't think they will."
The Taj opened in 1990, but in July 1991 the casino filed for Chapter 11 bankruptcy. And Trump had reportedly described himself as the "sole shareholder."
Trump defended himself in a recent interview with WaPo, saying that his casinos were not the only ones that suffered at that time, and things got, well, very Trump-ian at one point:
He said the bankruptcy was the result of external forces beyond his control, specifically an extremely bad economy in 1990. He said he had "the prerogative" to change his mind about using junk bonds in the financing.

"I didn't want to have any personal liability, so I used junk bonds. I accept the blame for that, but I would do it again," he said. But Trump vehemently denied that the deal represented a personal failing or affected his personal wealth.

"This was not personal. This was a corporate deal," he said. "If you write this one, I'm suing you."
You can read the full WaPo report here.
[image via Shutterstock]
— —
Follow Josh Feldman on Twitter: @feldmaniac
Have a tip we should know? tips@mediaite.com
Josh Feldman - Senior Editor