Trump Was So Happy With Coverage of Dem Debt Deal He Called Pelosi and Schumer to Gush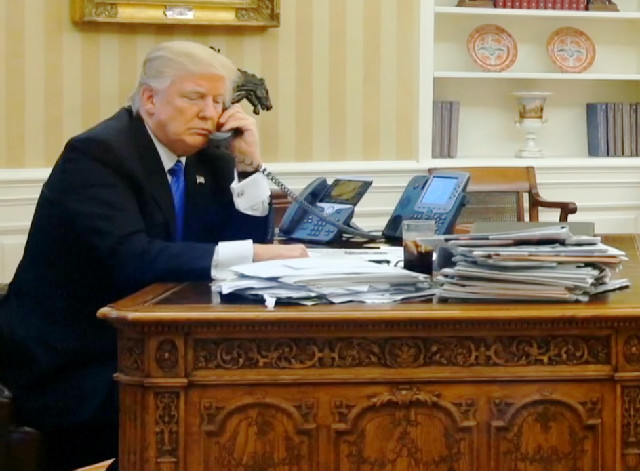 After President Donald Trump sided with Congressional Democratic leaders on a short-term raise of the debt ceiling and spending resolution, he received positive coverage from some of the cable news denizens. And despite tossing Republicans under the bus and giving Democrats pretty much everything they wanted, Fox and Friends and Lou Dobbs praised Trump for cozying up to House Minority Leader Nancy Pelosi and Senate Minority Leader Chuck Schumer.
After watching some TV Thursday morning and feeling awfully pleased with what he was hearing, Trump just couldn't help himself. He just had to call someone to let them know how awesome he felt. And who did he call? According to the New York Times, it was his two new best buds.
He picked up the phone and called the two Democratic congressional leaders, Senator Chuck Schumer of New York and Representative Nancy Pelosi of California. "The press has been incredible," he gushed to Ms. Pelosi, according to someone briefed on their call. He was equally effusive with Mr. Schumer, boasting that even Fox News was positive.
Yep. He rang up the two Democratic leaders to gush over the praise he was receiving for his bipartisan agreement with them. And that warm fuzzy feeling apparently kept on going through the day, leading him to want to keep doing the bipartisan thing:
A few hours later, Mr. Trump went on TV himself, vowing to turn a one-time spending-and-debt deal brokered out of expediency into a more enduring bipartisan alliance that could transform his presidency. He signaled openness to a Democratic proposal to eliminate the perennial showdowns over the debt ceiling, and he repeated his desire to cut a deal to protect younger illegal immigrants from deportation.
And besides calling up Pelosi to express how giddy he is that pundits are saying nice things about him, it appears he's allowing her to dictate his tweets. Two days after announcing that he was canceling the DACA program, Trump sent out a tweet that DREAMers had "nothing to worry about" for the next six months. It was later reported that he sent this out per Pelosi's request, something the Dem leader essentially confirmed a short time later.
[image via screengrab]
—
Follow Justin Baragona on Twitter: @justinbaragona
Have a tip we should know? tips@mediaite.com