Trump's Son Insults the Campaign's CNN Spokespeople: 'I Can't Even Watch It Anymore'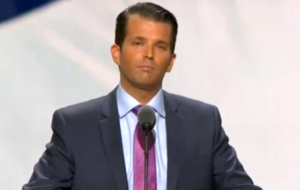 One theme of this year's election has been implosion. Breathless columnists and beltway insiders have been talking about the crumble of the GOP from the inside out ever since Donald Trump started leading in primary polls. On a few notable occasions, there have even been rumors of Trump's campaign itself imploding.
Donald Trump, Jr. isn't really helping matters today with this quote:
"[CNN has] a panel of 8 professional, liberal but professional, people on a panel, and they find like one Trump supporter from the street, who has no real political knowledge, and they just happen to be supporter, and they put that person up against 8 people who do this for a living and try to make it seem like that's a fair fight … I mean, it's so ridiculous I can't even watch it anymore."
This happened during the same interview in which Sean Hannity called CNN's Brian Stelter a "pipsqueak."
So, who are these "Trump [supporters] from the street who have no real political knowledge," you wonder? Well, former campaign manager Corey Lewandowski is one. His hiring was very controversial, in fact, because he was not found on the street, but rather came to CNN directly from his old job at Trump HQ. There is also Scottie Nell Hughes, who produced an entire iMovie video about how qualified she was for the position when she got it. Last night, CNN had Kellyanne Conway on for a few segments, and she was announced this morning as being the new campaign manager. Jeffrey Lord used to work as a staffer for Ronald Reagan and now he talks up Trump on the network all the time.
One wonders how they must feel about Trump's comments. Listen below, courtesy of Buzzfeed:
[image via screengrab]
Have a tip we should know? tips@mediaite.com