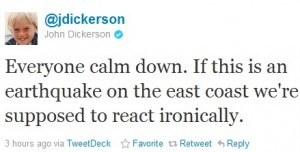 Barely an hour after a (now-downgraded 5.8) earthquake hit the East Coast, the internet began congratulating its own sparkling wit by publishing Top Earthquake Tweets lists. While this is a decidedly narcissistic exercise, some of them are actually pretty funny. As a public service, we've culled through the lists to present some of our favorites, plus a few tweets that didn't make the lists. We'll let you decide which group had the funniest tweets.
The Washington Post's Dylan Matthews posted a list of Top 17 Earthquake Tweets, and took a little guff for including one of his own, but I'll give him a pass. His was pretty damn funny:
@dylanmatt: "In retrospect, I resorted to cannibalism rather fast after the earthquake."
Some other highlights from WaPo's list:
@davidfrum: "DC public schools did not dismiss. The kids are tougher than Politico."

@jdickerson: "Everyone calm down. If this is an earthquake on the east coast we're supposed to react ironically."

@snowed_in: "Breaking: Carole King feels the earth move under her feet."

@ModeledBehavior: "More and more scientists are questioning whether that was a real quake. It is a theory that's out there."
Tucker Carlson's The Daily Caller got into the act, proving that conservatives do have a sense of humor, and that the world is, indeed, ending:
CalebHowe: #DCearthquake Breaking: Obama administration points out they "inherited" fault lines from previous administrations.

politicoroger POLITICO had the earthquake story yesterday.

TomFornelli: WOLF BLITZER IS ON THE PHONE WITH THE EARTHQUAKE.
Stylecaster did a list of Top 10 Fashion People Tweets, with mixed results. The winner:
@PaulAvarali Overheard in the stairwell during office evacuation: the stairs? but i'm wearing RL Collection heels #earthquake
From GQ's short list of East Coast Quake Tweets:
@weareyourfek Excited for this week's therapy session, in which we delve into reason why everyone else feels an earthquake, and yet, I feel nothing.
Boston Magazine's list demonstrated why Boston is historically on the wrong end of their rivalry with New York. This one made me smile:
@chic_travel Whole Foods market in Beacon Hill playing John Mellencamp's "When The Walls Come Tumbling Down" Priceless! #earthquake #Boston
International Business Times cribbed some of the WaPo list, but also uncovered this gem:
Two from @danovation:"Hipster earthquake. Really obscure. You probably haven't felt it." Also, " Brooklyn felt the quake 6 months ago in a Gowanus club, already over it."
Also hitting the hipster theme was The Daily Show's John Hodgman (from the Metro.us list)
@Hodgman: This guy in the cafe and I agree that we liked the earthquake when it first started. But now it's like, the wrong people are into it.
From Time Out Chicago's list:
CDotFullStop Chad Hammond  OH SHIT I DIE! Chris Brown tweeted "Please pray for Virginia" and someone RTd him sayin "Oh God. What did you do to her??" HAHAHAHA
From Gothamist's list, comic Patton Oswalt:
@pattonoswalt Not to panic anyone in NYC, but a screaming John Cusack just drove by in a limo that was missing a door.
Buzzfeed's list had one of my favorites:
mikescollins UGH!! I THOUGHT WE WERE GONNA DIE SO I STARTED MASTURBATING IN THE OFFICE!! IS ANYONE HIRING?!
Overlooked on all of these lists was this tweet from Dave Weigel, who also was generally hilarious in tweeting/retweeting about the quake. By the way, "CW"="conventional wisdom":
daveweigel Old CW: What if Obama's a one-term president? New CW: What if Obama's THE LAST PRESIDENT? #apocalypse
Still, there were more misses than hits, as our Managing Editor Colby Hall observed:
@colbyhall Breaking: Twitter users are trying very hard to make political jokes about the earthquake. Related: Almost all have failed.
Of course, the saddest tragedy of all is the unfulfilled promise of this Tommy Christopher (that's me) tweet, which, ironically, did not appear on any of these 63 lists:
@tommyxtopher Okay, now that I've live-tweeted a heart attack, gangrene, and a frickin' earthquake, I better get on some kind of list!
Have a tip we should know? tips@mediaite.com