Twitter Absolutely Blows Up In Response to Keurig Pulling Its Ads From Hannity's Show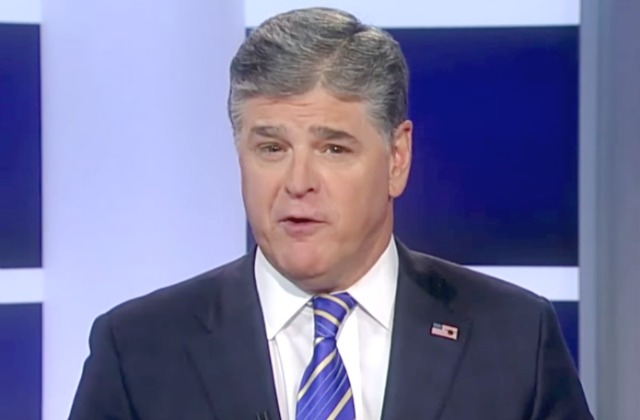 Following the bombshell allegations against Alabama GOP Senate candidate Roy Moore that he initiated sexual contact with a 14-year-old when he was 32, the first place he turned to for an on-air interview was Fox News' Sean Hannity. While the conservative host was given some plaudits for his tough questioning of Moore, he has come under fire for the rest of his coverage of Moore in the wake of the explosive story.
Largely due to a concerted effort by Media Matters for America's president Angelo Carusone, at least five companies have pulled their advertisements. One of the businesses that stopped their ads was coffeemaker Keurig, who answered directly to Carusone over the weekend that it had asked Fox News to no longer air its commercials during Hannity's show.
Angelo, thank you for your concern and for bringing this to our attention. We worked with our media partner and FOX news to stop our ad from airing during the Sean Hannity Show.

— Keurig (@Keurig) November 11, 2017
By Sunday, the hashtag #BoycottKeurig was trending as Hannity fans and MAGA Twitter declared that they would no longer buy the coffee machines or pods over the company's decision. One MAGA account went so far as to post a video of someone tossing their Keurig machine off of a balcony.
Calling all Trump supporters:

If you have a Keurig, please throw it out the window immediately.

They pulled ads from Hannity so we MUST #BoycottKeurig!pic.twitter.com/0qbHlmyqcA

— Collin Rugg (@CollinRugg) November 12, 2017
And others also posted clips of them destroying their coffemakers:
I pulled an "Office Space" with my Keurig… Would be a shame if everyone else joined me in the Keurig Smash Challenge #BoycottKeurig #IStandWithHannity #SundayMorning pic.twitter.com/yEADeRC006

— Angelo John Gage (@AngeloJohnGage) November 12, 2017
@Keurig Here's what I think of your decision on pulling your sponsorship of Sean Hannity! #BoycottKeurig #FansofHannity pic.twitter.com/cqugErUS5n

— Jack Spillar (@JackSpillar) November 12, 2017
While a number of conservatives kept pushing for a boycott, you had the inevitable response from liberals who were celebrating Keurig's announcement.
I'm gonna run out & buy a @Keurig, some @NaturesBounty,sign up 4 @realtordotcom & buy Nana plus size Christmas gifts @ELOQUII to thank them for ditching @seanhannity
Already did @23andMe. It turns out I am genetically predisposed to hating child molestor apologists. #FireHannity

— Lisa Ann Walter (@LisaAnnWalter) November 12, 2017
This is why #BoycottKeurig is trending:

Keurig pulled their ads from Hannity's show because of grassroots campaigns from AMERICANS who are sick of Fox News and Hannity in particular.

Trump supporters are, once again, falling for Putinbots who made this HT.#Sundaymorning#AMJoy https://t.co/OVmA5pfZbz

— Holly O'Reilly (@AynRandPaulRyan) November 12, 2017
Hannity fans & Russian trolls try to push #BoycottKeurig for removing ads from 'Hannity' & it backfires spectacularly#TheResistance #FireHannity #AMJoyhttps://t.co/yFt4R5TdyP

— Scott Dworkin (@funder) November 12, 2017
HUGE win for the #FireHannity movement!https://t.co/UPBrJb1twv and Keurig pulling their ads from Hannity in response to our campaign. Let's keep the pressure on!https://t.co/sTpFCjkMZW

— Nate Lerner (@NathanLerner) November 12, 2017
Meanwhile, it didn't take very long for Blue Check Twitter to have some fun with the whole episode.
Mushing slice after gummy slice of Papa John's Pizza into my Keurig coffee maker to enrage Sen. Sheldon Whitehouse of Rhode Island.

— David Roth (@david_j_roth) November 12, 2017
if you had a keurig coffee machine in your house in the first place it is with a heavy heart that i inform you that you are already owned

— Erin Gloria Ryan (@morninggloria) November 12, 2017
I see no circumstances in which Keurig should be a thing.

— ian bremmer (@ianbremmer) November 12, 2017
Imagine having any strong feelings about a Keurig machine

— Jess Dweck (@TheDweck) November 12, 2017
In that nice little window where I know something's going on with Keurig but I don't know what it is

— Rosie Gray (@RosieGray) November 12, 2017
Just bought a @Keurig so I could smash it. #I️StandWithHannity

— Vic Berger IV (@VicBergerIV) November 12, 2017
best current heel vs. heel feuds
3) McConnell vs Bannon
2) Trump vs Scientology
1) Hannity vs Keurig

— Owen Ellickson (@onlxn) November 12, 2017
Today I learned the Russians really don't like Keurig.

— Richard Deitsch (@richarddeitsch) November 12, 2017
You should smash a Keurig–but only because the coffee is terrible

— John Podhoretz (@jpodhoretz) November 12, 2017
I hate that 2017 has tempted me to defend the NFL, the Bushes, the Clintons, and now fucking Keurig

— Virginia Hughes (@virginiahughes) November 12, 2017
I love the keurig thing. i love right-wingers tossing them out their windows. I love liberals taking selfies with their shitty coffee makers for #TheResistance. I love politics in 2017.

— Sam Adler-Bell (@SamAdlerBell) November 12, 2017
I dunno about all this #BoycottKeurig shit but we all gotta admit that though Keurig makes a MUCH easier cup of coffee, it's nowhere near as flavorful as a traditional coffee maker. Keurig basically makes coffee-flavored water.

— rob dyke (@TheRobDyke) November 12, 2017
Chances that Russian Bots aren't the primary reason why the pro-Hannity #BoycottKeurig hashtag is the top trend on Twitter right now? Approximately the same as Roy Moore being the 2020 Democratic presidential nominee…

— John Ziegler (@Zigmanfreud) November 12, 2017
Destroying a product you already paid for is not a "boycott." https://t.co/u9cwnqbzzi

— Frank Luntz (@FrankLuntz) November 12, 2017
[image via screengrab]
—
Follow Justin Baragona on Twitter: @justinbaragona
Have a tip we should know? tips@mediaite.com