Twitter Explodes Over Report Trump Ordered Mueller Firing: 'Cheeto Jesus Knows He's Doomed'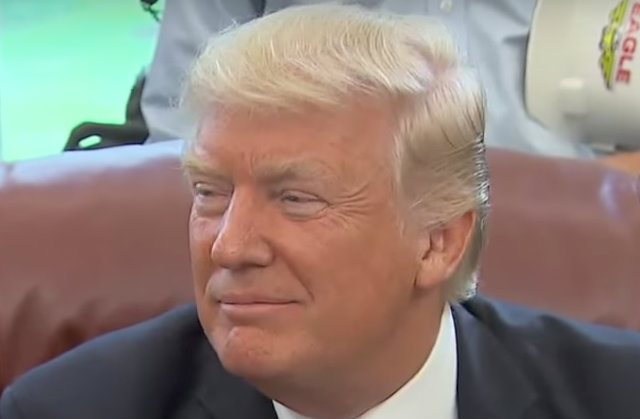 A late night bombshell courtesy of reporters over at the New York Times with no respect for the 9-5 workday revealed that President Donald Trump ordered the firing of Special Counsel Robert Mueller back in June 2017.
According to the Times, the president tried to fire Mueller last year but let up on the demand after White House counsel Don McGahn protested the move and threatened to quit.
McGahn reportedly "told senior White House officials that firing Mr. Mueller would have a catastrophic effect on Mr. Trump's presidency and would incite more questions about whether the White House was trying to obstruct the Russia investigation." Wow, smart guy.
That was apparently enough to quell Trump's frustration with the investigation into his campaign's ties to Russia, as the White House maintains to this day that they do not intend to fire Mueller.
Safe to say, the report that Trump ordered the firing of Mueller — coupled with the stunning detail that Mueller actually found out that the president tried to fire him! — was enough to send Twitter into a meltdown.
hahahaha. everyone on the Hill who has been like, Trump won't try to fire mueller, he knows that would be a red line. https://t.co/qWhYWOvovA

— Sam Stein (@samstein) January 26, 2018
HOLY SHIT https://t.co/2boVIzxfQJ

— Zac Petkanas (@Zac_Petkanas) January 26, 2018
It can't be obstruction of justice if you fire the guy investigating obstruction of justice pic.twitter.com/OUNjkd1JEU

— Spencer Ackerman (@attackerman) January 26, 2018
If @BarackObama had tried to do this, @FoxNews @SeanHannity @IngrahamAngle @michellemalkin @TuckerCarlson @LouDobbs would be going absolutely crazy, calling him a king. But they will say @realDonaldTrump should do it https://t.co/GhOGIKSXmM

— rolandsmartin (@rolandsmartin) January 26, 2018
2 Watergate 2 Furious https://t.co/TpBf5bbEop

— Kashana (@kashanacauley) January 26, 2018
Lmao I just had a feeling Twitter was going to be lit af tonight. Just finished dinner and poured a glass of bourbon when that NYT push notification hit. Everybody to your turrets let's go

— Comfortably Smug (@ComfortablySmug) January 26, 2018
Trump ordered the firing of Mueller, but backed down when White House counsel threatened to quit, @nytimes is reporting.

Notable: This came when the press reported that Mueller was looking at possible Trump obstruction of justice:https://t.co/nyKjJW73A0 pic.twitter.com/nXJlLfEHZi

— Greg Sargent (@ThePlumLineGS) January 26, 2018
Jeez. Trump's team is *currently* worried that he could still try to remove Mueller, the @nytimes reports.

It's so bad that Trump's lawyers are deliberately telling him the probe is close to wrapping up to keep him from doing this:https://t.co/nyKjJW73A0 pic.twitter.com/dtMBfbrFuM

— Greg Sargent (@ThePlumLineGS) January 26, 2018
This might make the interview awkward…Trump Ordered Mueller Fired, but Backed Off When White House Counsel Threatened to Quit – The New York Times https://t.co/6KIoUoWUkV

— John Dickerson (@jdickerson) January 26, 2018
Well hello https://t.co/YWw01ld5Lg

— Preet Bharara (@PreetBharara) January 26, 2018
Cheeto Jesus knows he's doomed. https://t.co/YU0sfsRGpu

— John Schindler (@20committee) January 26, 2018
holy god https://t.co/T2e6xBVg1r

— Evan Smith (@evanasmith) January 26, 2018
— Noah Rothman (@NoahCRothman) January 26, 2018
[image via screengrab]
—
Follow Aidan McLaughlin (@aidnmclaughlin) on Twitter
Have a tip we should know? tips@mediaite.com
Aidan McLaughlin - Editor in Chief