Twitter Heats Up Over Trump's Global Warming Tweet: 'Among the Stupidest Ramblings Ever'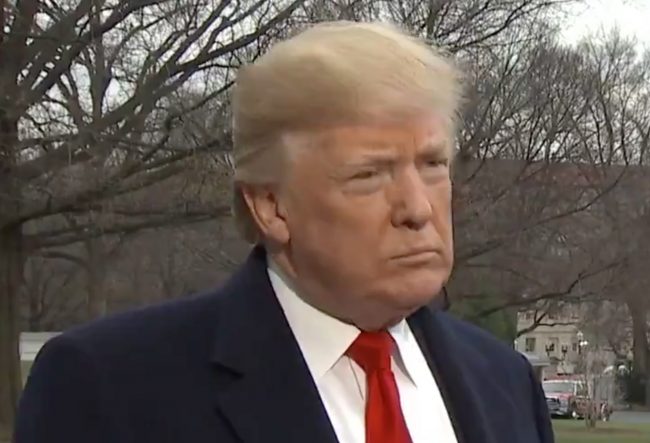 With much of America mired in a deep freeze, President Donald Trump decided to dig into his greatest hits vault and tweet out some climate change skepticism. While it was no "global warming was created by and for the Chinese in order to make U.S. manufacturing non-competitive," his latest remarks still fit squarely in line with his past dismissals of climate change.
In the East, it could be the COLDEST New Year's Eve on record. Perhaps we could use a little bit of that good old Global Warming that our Country, but not other countries, was going to pay TRILLIONS OF DOLLARS to protect against. Bundle up!

— Donald J. Trump (@realDonaldTrump) December 29, 2017
Considering that the leader of the free world still doesn't seem to grasp the difference between weather and climate, this tweet was tailor-made for internet mockery. And, as always, Twitter came through with flying colors.
It's funny – when Trump made his Paris Accord announcement, the White House evaded for days as reporters asked whether the president still believes global warming is fake.

He just…tweeted it out.

— Daniel Dale (@ddale8) December 29, 2017
like, remember how for months his aides would not answer if Trump still thinks global warming is fake? https://t.co/4wqgPaW9mC

— Rebecca Leber (@rebleber) December 29, 2017
These two tweets are referring to the White House avoiding questions about the president's views on man-made climate change, especially after Trump pulled the United States out of the Paris Climate Accord.
i know its dumb and pointless and i know exactly what the answer would be but i do really wish someone would ask SHS at the next briefing whether the president thinks global warming is good and does he like it

— Ashley Feinberg (@ashleyfeinberg) December 29, 2017
Imagine being so ignorant that you don't understand why a single cold snap doesn't disprove climate science based on centuries of data https://t.co/KuPIrgwaIf

— Aaron Rupar (@atrupar) December 29, 2017
the buoy that commemorates the spot where Mar-a-Lago used to be should be emblazoned with this tweet https://t.co/PaQsYikKiQ

— Simon Maloy (@SimonMaloy) December 29, 2017
Reminder that Trump's Irish golf course just got permission to build seawall.

The original application for the wall cited global warming and rising seas as a reason for needing the wall https://t.co/C4RQDM1z5Q https://t.co/pI8SEZzmdC

— Kyle Griffin (@kylegriffin1) December 29, 2017
When the alien archaeologists study the ruins of human civilization, this will take a prominent place in their notebooks https://t.co/6eutLWiVcn

— David Frum (@davidfrum) December 29, 2017
Does this mean global warming isn't a Chinese conspiracy? https://t.co/rbwet0w6RE

— Ben Jacobs (@Bencjacobs) December 29, 2017
today, in "texts you got from your dad in 2013" https://t.co/oUHCeAcVjP

— Kilgore Trout (@KT_So_It_Goes) December 29, 2017
A play in two acts pic.twitter.com/uLG21dJBGE

— Dan Eggen (@DanEggenWPost) December 29, 2017
Thanks to Twitter I know that when it gets cold outside, @realDonaldTrump will wonder where global warming went pic.twitter.com/9WpWleUiOK

— Mark Berman (@markberman) December 29, 2017
Dear lord. For the record, global climate change creates more extreme weather on both ends of the spectrum. #Science. https://t.co/i3ift6dTHQ

— Keegan Stephan (@KeeganNYC) December 29, 2017
The president is still the world's leading proponent of the world's stupidest talking point about climate change. pic.twitter.com/N8ThtBABc6

— Daniel Dale (@ddale8) December 29, 2017
It's super normal to have a president who doesn't understand the difference between climate and weather https://t.co/TOUoPQTqr5

— Josh Billinson (@jbillinson) December 29, 2017
This is simply among the stupidest ramblings ever tweeted – especially from the leader of the free world and a nation that ONCE led the world in science. You condemn us with your contrived ignorance and outlandish arrogance. Happy New Year. https://t.co/x0H1mBl8X3

— Brian J. Karem (@BrianKarem) December 29, 2017
[image via screengrab]
—
Follow Justin Baragona on Twitter: @justinbaragona
Have a tip we should know? tips@mediaite.com