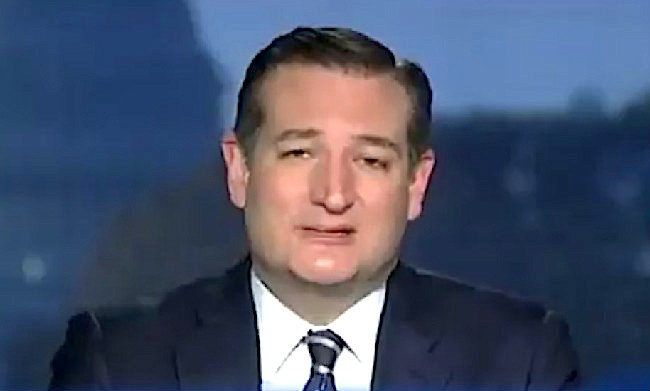 During Attorney General Jeff Sessions' hearing at the Senate today, Sen. Ben Sasse (R-NE) apologized for creating a distraction, noting that he had accidentally dumped a Dr. Pepper on his colleague, Sen. Ted Cruz (R-TX). This led to a little jokey back-and-forth between the two men on Twitter, culminating in Cruz's account acknowledging the Zodiac Killer meme.
— Ted Cruz (@tedcruz) October 18, 2017
Just to recap, during the 2016 GOP presidential primary, a mock conspiracy theory picked up speed that Cruz was actually the unidentified serial killer claimed to have murdered 37 people in the late 1960s and '70s. The meme gained enough traction that a Facebook page was created and Cruz's wife actually had to answer a question about its veracity in May 2016.
With Cruz acknowledging the meme, folks on Twitter reacted. We had those who sighed with disappointment that the conservative lawmaker effectively killed the joke:
Ted Cruz is the Zodiac Killer of killing jokes

— Dana Schwartz (@DanaSchwartzzz) October 18, 2017
I don't accept Ted Cruz reclaiming the Zodiac killer joke.

— Kevin BOO'Keeffe ? (@kevinpokeeffe) October 18, 2017
RIP the "Ted Cruz is Zodiac" meme https://t.co/F0aONjS2aa

— Scott Werewolf Hand™ (@ScottWamplerBMD) October 18, 2017
Ted Cruz just posted a Zodiac note and the internet is ded. https://t.co/b3jxPXU5Ua

— Tim ?? Dickinson (@7im) October 18, 2017
it is with deep sadness I must report that the Ted Cruz Is The Zodiac Killer meme has died after a long and happy life https://t.co/yDdzadNkG6

— Hannah Jewell (@hcjewell) October 18, 2017
There was also the counter-take to those takes:
pretty excited to see who writes the first Actually, It's Bad Ted Cruz Used The Zodiac Killer Meme take tbqh

— Sonny Bunch (@SonnyBunch) October 18, 2017
We had a fact-check:
.@tedcruz you're not the zodiac https://t.co/MJiR9Q7Kv1

— Philip Bump (@pbump) October 18, 2017
There were references to the last viral story related to Cruz's Twitter account:
ME: You're the Zodiac Killer.

TED CRUZ: No, I'm not!

ME: OK, you're that Senator who jerked off.

TED CRUZ: …ok I'm the Zodiac Killer.

— Jesse McLaren (@McJesse) October 18, 2017
I've already decoded this and it's about voyeur mom porn. https://t.co/QI8mnBBB5v

— Ken Jennings (@KenJennings) October 18, 2017
And we had these other observations:
Senate twitter is getting weird. Ted Cruz responds to a Ben Sasse tweet with a Zodiac Killer code. pic.twitter.com/NN8n3N0H8y

— Anthony Zurcher (@awzurcher) October 18, 2017
I honor of this tweet, re-upping that time I wrote abt Ted Cruz not being the Zodiac Killer: https://t.co/AgZ3cWEZvN https://t.co/31Z8FHg0Q3

— Sam Sanders (@samsanders) October 18, 2017
i like the ted cruz zodiac tweet

— E McMorris-Santoro (@EvanMcS) October 18, 2017
I think Ted Cruz just admitted to being the Zodiac Killer. https://t.co/xwwJcO9CS3

— Kyle Griffin (@kylegriffin1) October 18, 2017
Meanwhile, Sasse looked like he wanted to keep the joke going while wrapping in Donald Trump's previous claim that Cruz's father may have been involved in the JFK assassination:
so i found "rafael" in here but haven't decoded "grassy knoll" yet https://t.co/wVb2GMTf2i

— Ben Sasse (@BenSasse) October 18, 2017
[image via screengrab]
—
Follow Justin Baragona on Twitter: @justinbaragona
Have a tip we should know? [email protected]