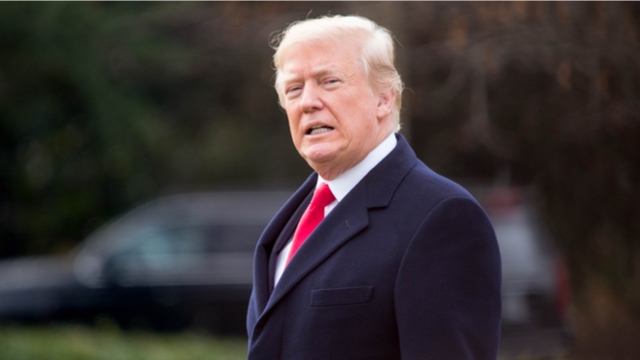 President Donald Trump has been talking a yuge game about his "Fake News Awards." And it turns out that – despite many people's skepticism – they've actually happened.
But there's just one tiny hiccup – it's been very difficult to access the page announcing the winners.
A quick refresher: Trump first announced these awards on Twitter on January 7:
I will be announcing THE MOST DISHONEST & CORRUPT MEDIA AWARDS OF THE YEAR on Monday at 5:00 o'clock. Subjects will cover Dishonesty & Bad Reporting in various categories from the Fake News Media. Stay tuned!

— Donald J. Trump (@realDonaldTrump) January 3, 2018
He then, in true Trump fashion, changed the date of said awards to today, the 17th:
The Fake News Awards, those going to the most corrupt & biased of the Mainstream Media, will be presented to the losers on Wednesday, January 17th, rather than this coming Monday. The interest in, and importance of, these awards is far greater than anyone could have anticipated!

— Donald J. Trump (@realDonaldTrump) January 7, 2018
Five o'clock came and went, leaving many to wonder whether the president had told another one of his many lies and there were actually no fake news awards, but lo and behold, they did arrive a few hours later.
As of this writing, the link to the awards – hosted on the GOP's home page, no less – has been working only sporadically.
Naturally, Twitter had a field day:
Wow we've been owned pic.twitter.com/kcb8kqltWe

— Ashley Feinberg (@ashleyfeinberg) January 18, 2018
The link for Trump's THE MOST DISHONEST & CORRUPT MEDIA AWARDS OF THE YEAR is broken, but Fox News has a one-sentence story on it, says NYT topped the list pic.twitter.com/5ZwOOGffdJ

— Hunter Schwarz (@hunterschwarz) January 18, 2018
This link works:

Trump's constant repetition of the term "fake news" is what makes it so powerful and so poisonous. https://t.co/6pb6jnjGHF

— Brian Stelter (@brianstelter) January 18, 2018
President Trump just directed the entire world to the Republican Party @GOP website, using the fake news awards as a tool.

Genius!#FakeNewsAwards

— #ThePersistence (@ScottPresler) January 18, 2018
Looks like the Fake News Awards were Fake News. Which means they won.

— Armando Iannucci (@Aiannucci) January 18, 2018
This 404 error has really cheapened the spirit of the Fake News Awards.

— Matthew Yglesias (@mattyglesias) January 18, 2018
it's amazing that the president unintentionally sometimes provides rousing defenses of the press by creating a fake news awards website that doesn't work

— Sopan Deb (@SopanDeb) January 18, 2018
When you send out the Fake News Awards but it's a broken link pic.twitter.com/B28rgGv4I4

— Jason Schwartz (@JasonSchwartz) January 18, 2018
[featured image via screengrab]
Have a tip we should know? tips@mediaite.com