Media Twitter Mocks Trump For Leaving Them in Limbo on the Fake News Awards: 'Never a Real Thing'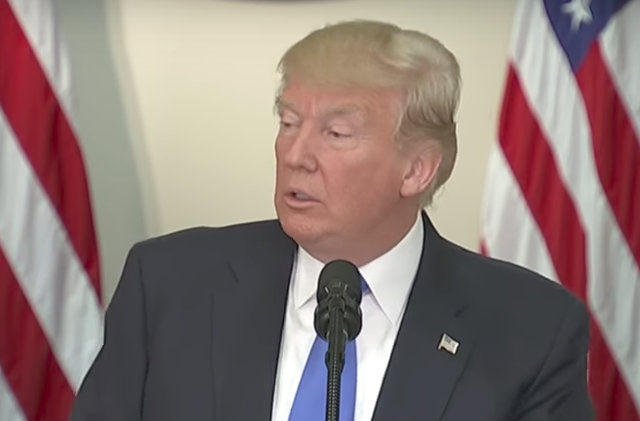 Could the Fake News Awards possibly be…Fake News?
Media Twitter is starting to wonder. President Donald Trump's award show honoring "the most corrupt & biased of the Mainstream Media" was slated to take place on Wednesday. But it's after 6:00 p.m. ET, and it seems like POTUS might be on the verge of delaying a ceremony he's already postponed once.
While we wait, here's a sampling of the media reaction — a media which is clearly skeptical that this thing is going to happen at all.
Wait, what if the "Fake News" Awards are actually the "Fake" News Awards? #FakeNewsAwards pic.twitter.com/ytS007yU54

— The Daily Show (@TheDailyShow) January 17, 2018
BREAKING: #FakeNewsAwards postponed due to Stormy weather.

— The Daily Show (@TheDailyShow) January 17, 2018
It's 5:00pm. Do you know where your fake awards are?

— Full Frontal (@FullFrontalSamB) January 17, 2018
the fake news awards were inside us all along

— Philip Bump (@pbump) January 17, 2018
That time your fake media awards was never a real thing, so the fake news awards are fake news. pic.twitter.com/UOptIYFvjQ

— Lizz Winstead (@lizzwinstead) January 17, 2018
The Fake News Awards will come right after Trump releases the tapes of his conversation with Comey, and the Obama wiretapp source.

— Amy Siskind (@Amy_Siskind) January 17, 2018
i hate that the Fake News Awards got so political

— David Mack (@davidmackau) January 17, 2018
The White House hasn't responded to any of my questions about the Fake News Awards ?

— Olivia Nuzzi (@Olivianuzzi) January 17, 2018
the Fake News Awards turning it to be a falsified announcement would be Italo Calvino-level meta

— Edward-Isaac Dovere (@IsaacDovere) January 17, 2018
Did I miss the fake news awards

— Hadas Gold (@Hadas_Gold) January 17, 2018
Perfect lede from @grynbaum @mattfleg about the Fake News Awards apparently being, yep, fake news. https://t.co/0h1NIRQIS1 pic.twitter.com/aM2LwTi1av

— David Enrich (@davidenrich) January 17, 2018
smh they haven't even released the NOMINEES for the Fake News Awards still scheduled for today, what a mess, this white house can't do anything!

— 176 days ago Trump promised 24-hr Hezbollah answer (@MattNegrin) January 17, 2018
The fake news awards were never real and that's too meta for me

— Josh Billinson (@jbillinson) January 17, 2018
[office space stapler guy voice] I was told there would be fake news awards

— Ken Klippenstein (@kenklippenstein) January 17, 2018
All of us are wondering that over here. It's almost like he….lied?? https://t.co/BnYcJqxWu3

— christine teigen (@chrissyteigen) January 17, 2018
(On the off chance that this is still on for today, Mediaite will have complete coverage of the Fake News Awards.)
[image via screengrab]
——
Follow Joe DePaolo (@joe_depaolo) on Twitter
Have a tip we should know? [email protected]
Joe DePaolo - Senior Editor