Twitter Rails on Spicer After Resignation: 'At Least Sean Spicer Will Always Not Have the Vatican'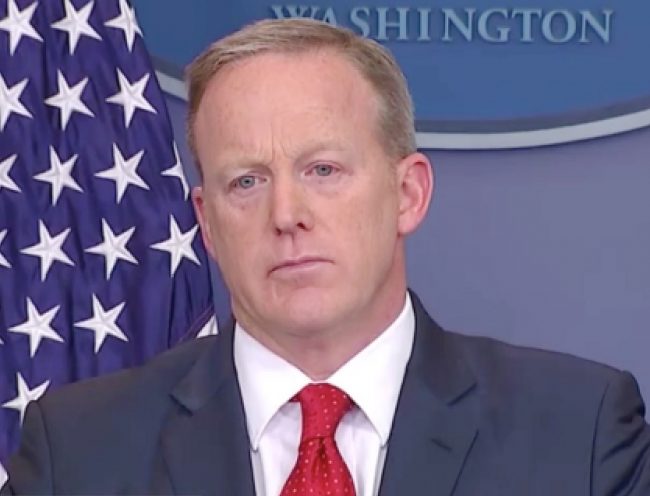 News broke today that White House Press Secretary Sean Spicer has resigned. This comes in the wake of the White House's decision to make longtime Trump supporter Anthony Scaramucci the new White House communications director. According to reports, Spicer is protesting Scaramucci's hiring.
As one would expect, this huge bombshell grabbed a whole lot of attention on Twitter.
Here's WaPo's Dave Weigel referencing one of Spicer's most infamous moments as press secretary:
Sean Spicer was the most honest press secretary of all time — period!

— Dave Weigel (@daveweigel) July 21, 2017
There was also a request to get Melissa McCarthy and Saturday Night Live on the phone so they can put together a show tomorrow evening:
Someone call Melissa McCarthy and SNL and get them to do an entire show on Spicer tomorrow night. Go. Go. Go.

— Kyle Griffin (@kylegriffin1) July 21, 2017
There was of course speculation that Spicer will now become a TV pundit:
Sean Spicer has resigned, looks forward to being a principled voice as CNN senior commentator.

— SwiftOnSecurity (@SwiftOnSecurity) July 21, 2017
Going to be hilarious when Spicer lands at CNN

— Stephen Miller (@redsteeze) July 21, 2017
congrats to Sean Spicer on his new gig at CNN

— Simon Maloy (@SimonMaloy) July 21, 2017
Lol dude you're going to be bumping into him at the water cooler @CNN (and everyone) is going to be offering Spicer huge contracts https://t.co/IwQtCs6qQO

— Harlan Z. Hill (@Harlan) July 21, 2017
One of Trump's biggest far-right supporters was certainly happy about the news, declaring Scaramucci as someone the "base supports":
Sean Spicer is finally out.

Anthony @Scaramucci is in.

The base supports Scaramucci!

— Mike Cernovich ?? (@Cernovich) July 21, 2017
Some found it interesting that Spicer's red line was Scaramucci coming on board:
Interesting that given everything that has gone on Scaramucci was Spicer's red line.

— Michael S. Schmidt (@nytmike) July 21, 2017
the list of things that didn't prompt Spicer to resign is far more shocking than the actual resignation

— Pat Dennis (@patdennis) July 21, 2017
Spicer was happy to tell ridiculous lies on national television, but working for Scaramucci was a red line.

— Matthew Yglesias (@mattyglesias) July 21, 2017
Then there was just some plain ol' mockery coming from all across the political spectrum:
I hope Spicer titles his book "I REALLY WANTED TO MEET THE FUCKING POPE"

— Jesse Berney (@jesseberney) July 21, 2017
Resist the temptation to feel bad for Sean Spicer.

— Charles P. Pierce (@CharlesPPierce) July 21, 2017
Apparently Spicer was fine with everything to date except he didn't like his new boss, so can we not canonize him

— Patrick Monahan (@pattymo) July 21, 2017
Sean Spicer [rides into the sunset slumped over a podium].
Child: Shane!
Sean Spicer: It's Sean! My name is…it's Sean god damnit.

— Soren Bowie (@Soren_Ltd) July 21, 2017
"Today is the day Sean Spicer became Press Secretary." – some pundit somewhere, probably

— Imani Gandy (@AngryBlackLady) July 21, 2017
If Sean Spicer announces his own resignation, is it true?

— Binyamin Appelbaum (@BCAppelbaum) July 21, 2017
Spicer swallowed every slight
And scraped a knee as needed
I told you Trump would shaft you
More Rick advice, unheeded.

— Rick Wilson (@TheRickWilson) July 21, 2017
Mike McClintock lasted longer than Sean Spicer

— KFC (@KFCBarstool) July 21, 2017
I personally think it's brave for Spicer to finally say he can't confirm or deny if he is or is not depending on various factors resigning!

— Bess Kalb (@bessbell) July 21, 2017
At least Sean Spicer will always not have the Vatican.

— William K. Wolfrum (@Wolfrum) July 21, 2017
let's all pour some gum out in Sean Spicer's honor tonight

— Ziwe (@ziwe) July 21, 2017
I won't believe Sean Spicer resigned until he denies it.

— Michael Rosenberg (@Rosenberg_Mike) July 21, 2017
Mediaite's Managing Editor Colby Hall and Senior Editor Jon Levine also weighed in:
At least Sean Spicer goes out knowing that he was a generation defining punchline.

— colbyhall (@colbyhall) July 21, 2017
What's next for Sean Spicer?

1. Book
2. Reality television
3. Jesus

— Jon Levine (@LevineJonathan) July 21, 2017
[image via screengrab]
—
Follow Justin Baragona on Twitter: @justinbaragona
Have a tip we should know? tips@mediaite.com