Twitter Rips Mike Huckabee Over Fawning Praise of Trump for Visiting Scalise in Hospital 'On His Own Birthday'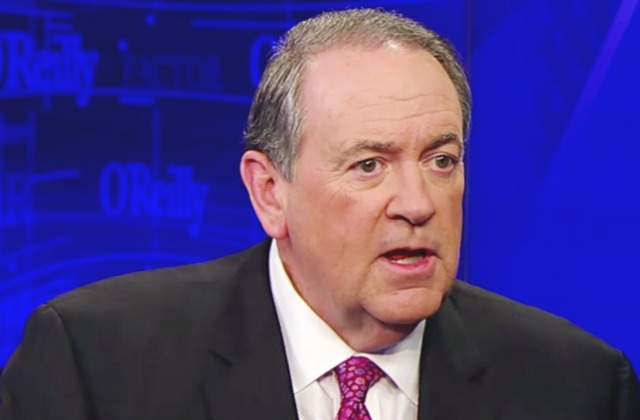 Late Wednesday, President Donald Trump visited the hospital where Congressman Steve Scalise is being treated for a gunshot wound to the hip.
Even the President's most vocal critics would likely consider this a kind gesture — if one that is expected and all but required of a man in his position.
But former Arkansas Governor Mike Huckabee seemed to think Trump deserved extra credit of some sort. Why? Because he made the visit on his birthday.
On his own birthday, @realDonaldTrump goes to hospital to visit Cong Scalise; his actions match his comments-compassion and leadership.

— Gov. Mike Huckabee (@GovMikeHuckabee) June 15, 2017
Twitter called Huckabee out for his fawning praise of the now 71-year-old Trump and his reference to the President's birthday. Here's a sampling of the reaction:
What a sacrifice! Trump is usually roaming the halls talking to himself or watching Apprentice reruns.

— Mike (@thedecider99) June 15, 2017
I'm pretty sure the hospital was on the way to the golf course.

— Just Jenni (@jennijuve) June 15, 2017
he's the president-those are actions expected of him. also, a 71 year old man should not expect special treatment on his bday. grow up.

— shannon oehler (@s_oehler) June 15, 2017
He's freaking 71 FFS. My Lord how we have lowered the bar of what is "Presidential"

— O'sgirl (@terrij68) June 15, 2017
So he did what any normal person would do because he was told to? He's 71. Stop treating him like a child and rewarding him for the mundane

— Alexis Scott (@AlexisMScott) June 15, 2017
I'm sure he had the pony rides and bouncy house later. Do you think he's 6 for crying out loud???

— C Haywood (@haywood_cm) June 15, 2017
On his birthday he made this courageous move to be driven to a hospital to speak with a person's wife? Such valor! He's 71, not 6. Oh wait.

— Kathleen Mulcahy (@KathleenMulcah3) June 15, 2017
Wow, on his own birthday? What is he, like 70 years old?

Most people stop caring about their own damn birthday around 22.

— Nathan Ryan (@NathanARyan) June 15, 2017
What difference does it make that it's his birthday? Is he 12? He does what any other president would & you want him to be a hero. ?

— Is it 2020 yet? ? (@Happy_Dem) June 15, 2017
Ummm I go to work on my birthday every year it falls on a work day. This is not applause worthy, it's expected. So yay?

— Pamela (@AYFKMPEOPLE) June 15, 2017
You mean like when he spent Mothers Day golfing instead of with his wife and son??

— trex (@trex9123) June 15, 2017
On my birthday I didn't do anything grown up just wore a party hat and ate cake

— Jay Cobb (@JayWCobb) June 15, 2017
[image via screengrab]
——
Follow Joe DePaolo (@joe_depaolo) on Twitter
Have a tip we should know? tips@mediaite.com
Joe DePaolo - Senior Editor