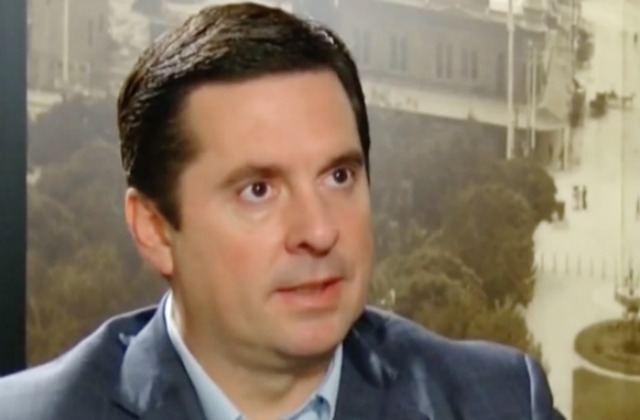 Memo Madness hasn't come to much, according to many on Twitter.
The Nunes memo, whose potential public release has been the subject of a huge back-and-forth between the Democrats and Republicans in Congress, the FBI, and the White House, was just released, and the verdict is: That's it?
The memo, which essentially alleges that the controversial Christopher Steele dossier compiled for Fusion GPS was an "an essential part" of the justification to renew a FISA warrant to surveil Carter Page, a former Trump foreign policy adviser.
The denizens of Twitter were fairly unimpressed by what was hyped up to be a world-rocking bombshell on deep-state abuses, seeing it more as a weak partisan smear on the FBI:
Imagine if Nunes just stood in the House and said, "I have evidence the FBI relied on the unconfirmed Steele dossier in applying for a warrant of a Trump adviser – and I know Steele told someone he hated Trump."

It'd get like four minutes of coverage. But that's all The Memo is.

— Daniel Dale (@ddale8) February 2, 2018
.@HardballChris: This is a staff-written memo, perhaps written with the help of the WH. This document…is almost like an indictment of Comey, McCabe, and Rosenstein. The targets are there. The next target is Rosenstein. The language is mischievous. #AMR

— Andrea Mitchell (@mitchellreports) February 2, 2018
Wait. So this entire memo is just about renewing approval to continue surveillance on Carter Page, the most obviously compromised man in all this?

Aahahahhahahhahahahahahhaha!

— Kumail Nanjiani (@kumailn) February 2, 2018
Wow. This Nune memo is even less impressive than I thought. All these mouth-breathing idiots who called this worse than Watergate just got clowned.

— Rick Wilson (@TheRickWilson) February 2, 2018
I'll say it: The Nunes Memo seems remarkably underwhelming and won't materially change anything, apart from serving as a pretext to fire Rod Rosenstein (then Mueller.)

— Colby Hall (@colbyhall) February 2, 2018
Two things seem true about this memo.

1. There's nothing much here. It reads more like a Breitbart article than anything else.

2. It's genuinely unnerving congressional Republicans are releasing cherrypicked memos trying to smear and undermine the FBI. https://t.co/qYWX5uDn6p

— Ezra Klein (@ezraklein) February 2, 2018
It's literally just a memo about Carter Page with nothing to do with the whole meat of the investigation.

— Matthew Yglesias (@mattyglesias) February 2, 2018
My reaction to #NunesMemo: THAT'S IT? Vast majority of this was already publicly known, memo itself omits that Fusion GPS started its work for Republicans, and NOTHING IN HERE MERITS CRITICISM OF ROSENSTEIN who is mentioned only once and in passing. This is a complete sham.

— Norm Eisen (@NormEisen) February 2, 2018
In reflecting more on this, I think Nunes may have just blown up the core Trump defense to the "Russia investigation" — that it was all fruit of the poisonous Steel tree. Not true. It was already underway. https://t.co/gUvGgSUyY1

— David French (@DavidAFrench) February 2, 2018
This memo is an absurd waste of everyone's time—and shocking that Trump understands intel so little that he thought it was worth fighting over.

— Garrett M. Graff (@vermontgmg) February 2, 2018
The memo is a smoking gun if you are trying to prove that Devin Nunes is too stupid to run a competent scheme.

— Jon Lovett (@jonlovett) February 2, 2018
For their part, the FBI Agents Association tweeted a statement that it is not deterred by the memo and "will not allow partisan politics to distract" from its work:
1/2 Statement from FBIAA President Tom O'Connor (@tfoconnor83): "The men and women of the FBI put their lives on the line every day in the fight against terrorists and criminals because of their dedication to our country and the Constitution."

— FBI Agents Assoc. (@FBIAgentsAssoc) February 2, 2018
2/2 "The American people should know that they continue to be well-served by the world's preeminent law enforcement agency. FBI Special Agents have not, and will not, allow partisan politics to distract us from our solemn commitment to our mission."

— FBI Agents Assoc. (@FBIAgentsAssoc) February 2, 2018
Have a tip we should know? tips@mediaite.com